THE MUSIC MAN -- A Beautiful Mind created this stunning graphic of the Clay Nation's favorite music man.

Back on Track with Tech Support

What a Week on the Clay Train!
Bright and early Monday morning, a corrupted file in AOL put me in touch with computerized assistance until the voice on the other end didn't recognize the error number I was attempting to explain. When "she" asked if I would like to speak with Tech Support, I executed a virtual back flip, pumped my fist, and shouted, "YES!" My wait time was supposed to be up to 2.5 minutes; and when Steve started speaking to me within 20 seconds, my first question was "Are you real?"
Under his guidance, we removed AOL and downloaded a new version. I applaud the AOL Tech Support Team -- and especially the "real" Steve -- for saving my blog notes, codes, photographer/graphic artist permission list, and all kinds of important info that I store in "Mail Waiting To Be Sent."
As soon as I was good to go, I hopped back on the Clay Train and the smorgasbord of appearances and events to which fans have been treated this week.
In fact, so much has happened the past few days that turning the retrieved blog notes into an organized entry has been crazy in between teaching lessons and maintaining the temporary Updated Blog List on the OFC message board. Hopefully, the latter situation will be resolved SOON.
If by chance you missed any of this collection of events, this blog is loaded with story/video links, as well as some downloads. Hope you enjoy this overview of the week's highlights!
ATDW Marks Aiken's Third Top 5 Debut
LOS ANGELES, Sept. 27 /PRNewswire/ -- Clay Aiken's third album, A Thousand Different Ways, sold over 205,000 [later corrected to 211,000] copies in its first week of release, securing a No. 2 debut on the Billboard album chart. It is Clay's third consecutive debut inside the top five. Measure of a Man entered at No. 1 and Merry Christmas With Love bowed at No. 4. Clay is the 4th artist ever to have his first 3 albums debut Top 5 and scan over 200,000 in the first week.
For the whole story, see Third Top 5 Debut.
Top Debut Album on Billboard 200
ATDW came in with lots of good numbers on the various Billboard charts, including #2 and the Top Debut Album on the Billboard 200. Here are the standings:
Billboard 200 - #2 Hot Shot/Top Debut Album
Billboard Comprehensive Albums - #2
Top Digital Albums - #3
Top Internet Albums - #1
Top Canadian Albums - #6
For the complete story, see Top Debut on Billboard 200.


Clay at LA CD Signing -- Photo by John Heller
Clay Signs Autographs at LA Virgin Store
Clay Aiken: A Day in the Life!
This excellent segment with Jann Carl ran on Entertainment Tonight Wednesday and includes video at the ET website and lots of recaps from Tuesday's LA Virgin Megastore CD signing, as well as the Jimmy Kimmel Live Show.
Hundreds of fans stood in line for hours on Tuesday just to get a glimpse of their favorite pop star, CLAY AIKEN, as he made an appearance at the Virgin Megastore in Hollywood -- which is just all in a day's work for the popular crooner!


JK, the "Ultimate Claymate" with Clay - AP Photo by Lisa Rose
Jimmy Kimmel donned a Clay Aiken T-shirt and carried a "My Heart Is Aiken" sign into the Virgin Megastore autograph signing in Hollywood. The skit has been shown on the Internet, TV media, as well as Jimmy Kimmel Live where Clay was a guest the same evening.
The Lighter Side of Things
This piece originally appeared on "The Insider Online" Wednesday with a recommendation to watch the show that night. The segment never aired ... but with entertainment shows, you never know.
After his oh-so-serious interview with DIANE SAWYER, CLAY AIKEN is getting back to the lighter side of things with a CD signing this week at the Virgin Megastore in Hollywood and an appearance on "Jimmy Kimmel Live"!
Once again, the 27-year-old singing sensation was mobbed by Claymates and generally knocked out by the attention.For more of the article, see Clay Causes a Commotion.



Clay and Jimmy -- Cap of Two Friends Interacting on JKL
Aiken-Kimmel Chemistry Still the Best!
From the opening monologue and woven throughout the hour, Tuesday night's Jimmy Kimmel Live could easily be dubbed "The Clay Aiken Show."
Among the many highlights were discussions of Clay's fans, the Claymates; "show and tell" items from Clay's official website (boxer shorts, the thong, a fan for small, country churches ... "Lord, Jesus!").
Earlier, during the Virgin Megastore CD signing, Clay complied with an autograph on the shoulders of two Salt Lake City fans, who promptly had his signature permanently tattooed. After their introduction on JKL, Clay pulled up his pants leg and displayed a "tattoo" of JK on his left calf ("I shaved my leg for you!").
When Jimmy asked if Clay thought the Claymates would kill someone for him, he responded, "No, but be mean to me and they will beat you up."
One of the most celebrated exchanges for fans was Clay's answer to Jimmy's opening "How's everything? Clay's answer: "Very, very good."
If you missed this fun evening, these two videos are streaming at ABC:
Ready to Get Clay-zy
JKL: Clay's Tattoos
During the concert portion of the show, Clay & Co. rocked out on A Thousand Days, which you can download HERE.
At one point, JK announced to the audience, "We don't get this kind of response from anyone else on the show." Fans can add an online review of the 9/26 show HERE.
PHOTO INTERMISSION: Featured in today's clickable interlude are graphics by four talented visual artists: Amazing_CA with photo credits to KarenEh (1, 4, 5); Katt45 (2); and ABeautifulMind (3).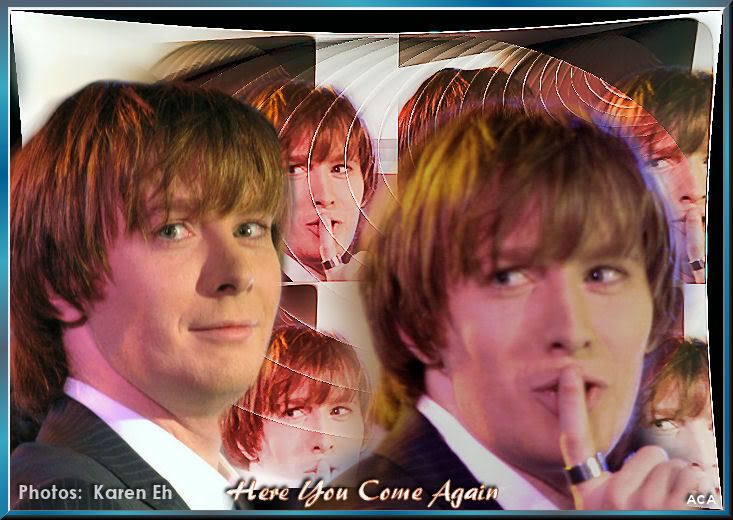 The Story Behind Album Reviews
While most reviews of ATDW have been scathing, at least one music critic, Tony of Shipwrecked Island Studios (See 9/5/06 blog) "got it" -- Clay's incredible vocals, the album's exquisite arrangements and extraordinary production. OKclayhoman emailed Tony and asked his opinion about why other reviews have been so brutal. With her permission, here is Tony's reply:
I've read some of the other reviews out there and honestly I am not shocked at all. Most of the main stream reviewers aren't actually listening to the album or albums they're being given. It's all about pushing a product, which to me is very sad.
In the case of Clay's album I think a lot of reviewers are basing their final thoughts on Clay's past works and the fact that he was on American Idol. I wish more reviewers would actually share their own thoughts on album reviews rather then say what their bosses or companies are telling them to say.
It's all about money these days and that's one of the things I hate about labels and so-called major review chains like Billboard. They're pushing the products that can garner the most cash or cause a stir. Clay to me is a very simple guy who likes simple music and can "WOW" people with his voice. He doesn't need the flashy lights & all the fixings like all these other musicians out there. I think that right there hurts him in the labels and main stream reviewers' minds because it's as if he's trying to stay true to himself rather than sell out and bow to the demand of the money people.
I wish more artists were like him. If that was the case then labels wouldn't be trying to put copy protection and other spyware on CD's. That's why I love late 70's - early 90's music--mostly because it was a simpler time where the music just spoke for itself. (For the most part.)
So in a nutshell, the industry sucks and it's up to real music fans to say what they like and what they don't like. I still love Clay's disc and I think it's one of the best albums of the year to this point. Too bad the industry doesn't see it the same way as his fans do.
Shipwrecked Island Studios is a four-year-old, well-respected web site run by two 20-something guys who enjoy writing about music.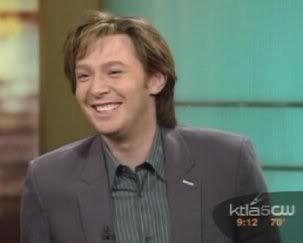 Clay Shines on KTLA -- Screencap by Gerwhisp
Clay Wows Crew at KTLA Morning Show
Delayed a day due to a bout with stomach flu, Clay appeared on the KTLA Morning Show Wednesday and impressed the crew with his charm, wit, integrity, music, and ability to speak knowledgeably about many topics, including current affairs and politics. At one point, he filled in the blank of the potential Democratic presidential ticket when the anchors could not.
What's on Clay's IPod? "Just me," he grinned.
For the two-part KTLA appearance, click on Clay Wows KTLA and scroll to "Celebrity Interviews."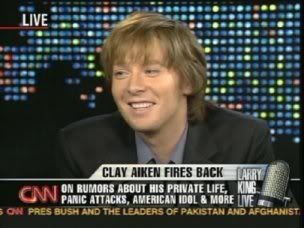 Clay on Larry King Live -- Screencap by Gerwhisp
Clay Spars with Larry King
From the CNN promos for Wednesday night's Larry King Live show -- Clay Aiken Fires Back on Rumors About His Private Life, Panic Attacks, American Idol & More -- you could tell what type interview the host expected to have.
Not on his life! In a nutshell, Clay told LK: My life is my own ... some people want to make it theirs ... but it's not!
The two men covered much territory -- ATDW, moving back to Raleigh, "nerdism," panic attacks, sexual orientation, family, writing "Lover All Alone," the tabloids, Clay's faith, fame, the BAF's new book, Our Mikayla.
If the LKL site is true to form, there should soon be video of the interview that encompassed 3/4 of the hour. The entire transcript is there now. In addition, there is an excellent synopsis of the show at Clay's Daily Double.
Whew, I'm worn out just writing about all this. Don't forget the Clay Aiken Show at Wal-Marts everywhere Friday at 7 p.m., as well as the streaming of the acoustic Soundcheck.
Have an awesome weekend, Clay Nation! You, too, Clay!
Caro
RELATED TAGS: Clay Aiken, A Thousand Different Ways, A Thousand Days, Billboard, Entertainment Tonight, The Insider, Jimmy Kimmel Live, Claymates, LA Virgin Megastore, Shipwreck Island Studios, KTLA Morning Show, Larry King Live, Wal-Mart Soundcheck
0 Comments | Read More→