Happy 28th Birthday, Clay!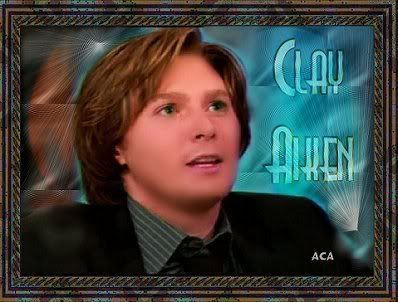 FOND MEMORIES -- In this graphic, Amazing_CA captured one of the many special moments from Clay's appearance on the Tyra Banks Show, which re-airs on 11/29.

All Is Well ... Almost!
Special Christmas EP Sells Out
All is well -- or it soon will be! Nov. 28 dawned with two major shopping goals -- track down Clay Aiken's new EP, All Is Well - Songs for Christmas, and pick up my previously ordered oboe case at a local music store.
Funny how sometimes the best laid plans end up taking a hike. I had checked and double-checked with Wal-Mart on Monday about All Is Well. The Greensboro store knew about the EP; from what I have read on the boards, that's an improvement over many establishments in some areas of the country. Our electronics personnel planned to put AIW in the bins at 12:01 a.m. Unfortunately, I decided not to make a midnight run.
Wrong move! AIW sold out overnight, but I was told to check back Tuesday afternoon regarding a replacement order. Nothing all day, though each person answering the phone seemed to think another order would be coming soon. That is, until my last phone call at 5 p.m. when I was informed they really don't know IF or WHEN. Somehow, I had already figured that out.
Fans Compare Shopping Adventures
Throughout Clay Cyberspace on Tuesday, fans shared their shopping successes and woes concerning no and low stock of the Wal-Mart exclusive release. The EP contains four beautiful Christmas songs: All Is Well, Christmas Waltz, O Come O Come Emmanuel, and My Grownup Christmas List.
For those fortunate enough to locate the EP, purchases have run the gamut -- from locating disks in a box in a store's garden section to finding them spotlighted in the electronics end caps where an exclusive belongs.
Before leaving for the music store, I posted my "coulda, shoulda, woulda" tale at two CA message boards. By the time I completed errands, there were PMs from fans in Georgia, North Carolina, and California offering to share.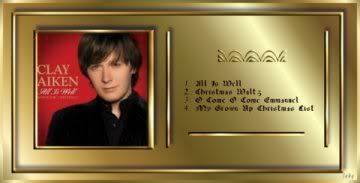 'All Is Well' Graphic by Claystruck
The most amusing episode of my AIW search occurred when Jasper Bonaparte, the grandfather of one of my violin students, called to change Tuesday's lesson. A dental appointment was playing havoc with our schedule, so we set a makeup time for Wednesday. We were hanging up when Mr. "B" added, "Unless we get there today!"
I told Mr. "B" I was probably heading to Wal-Mart since (a) he was canceling and (b) this is group week for the day's other students. Lo and behold, Granddaddy was at that very moment sitting in the Wal-Mart parking lot. After I described the EP's four tracks, he went into the store to check on the possible second delivery for both of us!
Sadly, no All Is Well --but, hopefully, soon! Meanwhile, many thnx to the friends who have offered to send me an extra copy if possible. Though I have listened to downloads, I can't wait to hear the actual recording; and I still hope to locate enough to include in gift packets for the musicians in my family.
Reports posted by various fans Tuesday evening imply that a big promotional splash focusing on all Clay's CDs is planned by Wal-Mart for this weekend, complete with advertisement in a Sunday flyer. Hopefully, that means large numbers of EPs in the stores because everyone should hear this man sing these selections.
Meanwhile, it's back to the drawing board and my redial button to Wal-Mart's electronics department. You can bet I will be first on the pre-order roster next time around!
PHOTO INTERMISSION: Featured in this clickable interlude are creations by five talented visual artists -- Amazing_CA (1); Claysmelody (2); ABeautifulMind (3); Katt45 (4); and Ambassador of Love (5).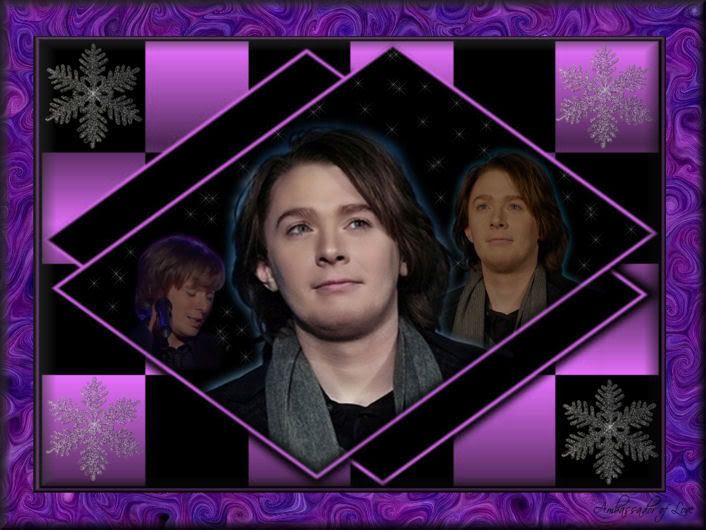 Clay Named Best AI Singer
The music blog Steel Kaleidoscopes this week named Clay Aiken the #1 singer to ever grace the American Idol stage. In fact, three of the top 10 are North Carolinians. Here is the Kaleidoscope take:
Talent is never in short supply on "American Idol," but the true talent doesn't always win.
In the first five seasons of "American Idol," three of the five winners deserve to make the All-Time Top 10 American Idol list. Two of the winners -- Ruben Studdard and Taylor Hicks -- don't even crack the Top 10.
Of all the singers who have graced the Kodak Theatre stage in the last five seasons, these are the best of the best:
10. Tamyra Gray
9. Carrie Underwood
8. Kimberley Locke
7. Bo Bice
6. Katharine McPhee
5. LaToya London
4. Chris Daughtry
3. Fantasia Barrino
2. Kelly Clarkson
1. Clay Aiken -- The best singer to ever stand in front of Randy, Paula and Simon, period. Aiken's unique voice is unmatched. Invited back as a wildcard, Aiken wowed America with his version of Elton John's "Don't Let the Sun Go Down on Me" and never faltered thereafter. Week after week he towered above the competition, but somehow lost to Studdard in the Season 2 finale. He was one of three contestants never to appear in the bottom 3 (Clarkson and Underwood are the others). What makes Aiken No. 1 is that he's an original. Simply put, there are no comparisons.
No argument here!
Clay Ranked #12 in Lycos 50
According to the Lycos Top 50 column for the week ending Nov. 25, Clay notched the #12 spot:

12 Clay Aiken
Filled Reege's Shoes (nc) 12 179

Clay Aiken, holding strong at #12, also found himself at the center of some minor controversy last week when he filled in for Regis Philbin on "Live with Regis and Kelly," where he didn't exactly hit it off with Kelly Ripa. During an interview, Aiken jokingly covered Ripa's mouth with his hand, which upset Kelly. Later, on "The View," Rosie O'Donnell insisted that Kelly's reaction was homophobic. Ironically, Rosie's attempt to defend Clay flies in the face of his assertion that he does not want to talk about his sexuality. Way to stick your foot in your mouth there, Ro. And while I am not a huge fan of being touched by people I do not know very well, a bit too much has been made out of this incident. It is high drama worthy of the sixth grade lunch line.
The Lycos 50 Elite proclaims Clay Mania is showing no signs of diminishing. Clay has been on the Lycos 50 chart for 179 consecutive weeks:
Clay Aiken (High: #1, Streak: 5/03 to present) -- American Idol's most popular runner-up first appeared on our list just one week after he "lost" to Ruben Studdard. He first reached the number one spot in March 2004 when his biological father passed away. Clay is the most searched American Idol contestant on Lycos, and Clay Mania shows no signs of diminishing.
We could have told them that. In fact, fans searching with Lycos are doing just that!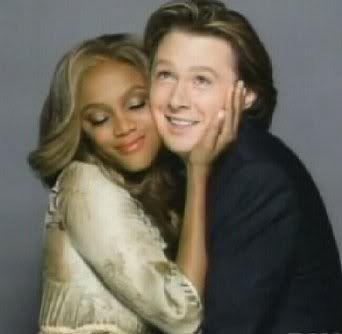 Screen Cap of Tyra Banks and Clay Aiken -- Gerwhisp

Claymates Show Tyra Some Love
Claymates of all variations (Claymaniacs, Clayasians, Clayfrican-Americans, etc.) have logged countless appreciative comments at the Tyra Banks web site about our singer's appearance last week. You can add yours HERE.
For anyone missing the Clay-Tyra Show the first time around or for those who would like to see it again, the episode re-airs at 11 p.m. EST Wednesday (11/29) on the OXYGEN Channel.
Have a great week, Clay Nation. Hope All Is Well for everyone -- SOON!
Caro

RELATED TAGS: Clay Aiken, All Is Well Christmas EP, All Is Well, Christmas Waltz, O Come Emmanuel, My Grown Up Christmas List, Wal-Mart, Steel Kaleidosccopes, Lycos Top 50, Lycos 50 Elite, Tyra Banks Show
0 Comments | Read More→