EVERYTHING I DO -- Clay Aiken lives the phrase "doing for others," and this lovely graphic by Cindilu2 features a song with that message: "Everything I Do, I Do It for You" from the album A Thousand Different Ways.
Six Degrees, Gala, ATDW Podcasts!
Jubilant Weekend Observed
Celebrations in the Clay Aiken fan communities are many this weekend -- the exciting close of Six Degrees campaign with The Bubel Aiken Foundation set to receive $10,000 in matching funds, countless Clay fans gathered in Raleigh for TBAF Champions of Change Gala, and the surfacing of five amazing iTunes podcasts of our singer discussing various aspects of A Thousand Different Ways.
With enormous final day donations, CA fans and supporters made sure TBAF remained among the top six charities for Kevin Bacon's Six Degrees challenge. The drive built on the popularity of the "small world phenomenon" to create a charitable social network and inspire online fundraising.
TBAF To Receive $10k from Six Degrees
The Six Degrees fundraiser ended at 11:59 p.m. Saturday with the organization set to contribute $10,000 in matching funds to the six charities with the most donors. They include Autism Speaks Inc, 2439 ($48,370); TBAF, 2198 ($43,983); Family Pride Coalition, 1170; 11th Hour Animal Rescue, 1131; National Multiple Sclerosis, 1063; Helping Children Worldwide, 1041.
Final figures are still being tallied, and you can view them by clicking on the Fan Alert graphic below. Donor totals are updated here through 7 p.m. April 5.


Click to View Final Top 10 Totals
Clay even double-blogged Saturday afternoon to spur on the troops: "It's like American Idol all over again! Down to the wire and us in second place! This time though, all for a good cause!"
Afterwards, the number of donors soared -- and coming in second, though deja vu was not a bad thing.
TBAF Throws Annual Party
TBAF, Clay's charity for the inclusion of children with developmental disabilities, threw a huge party in Raleigh Saturday honoring this year's Champions of Change. The gala annually celebrates people and organizations who have made outstanding efforts to open doors so children with special needs can be included in their communities.
The sold-out event will featured dinner, speeches, the conclusion of silent and Internet auctions, and special performances by Clay and his backup partner, Quiana Parler. Their program included "I Can't Make You Love Me," "Home" (Quiana), "The Prayer" (duet), and "Unchained Melody." Audio can be downloaded at Clack Unlimited.
There are already several wonderful recaps posted at Clay's Daily Double, as well as message boards throughout Clay Cyberspace.
These clickable photos are but a teaser of the CLACK Clay fans can expect to see and hear in the days to come. Included here are Invisible926, #1; Irishbookgal, auction of LTS, #2; Invisible926, prior to auction of Wango Tango shirt won by SmartyPantsSuz, #3; Irishbookgal, prior to auction of Clay's rings, #4; and Invisible926, #5.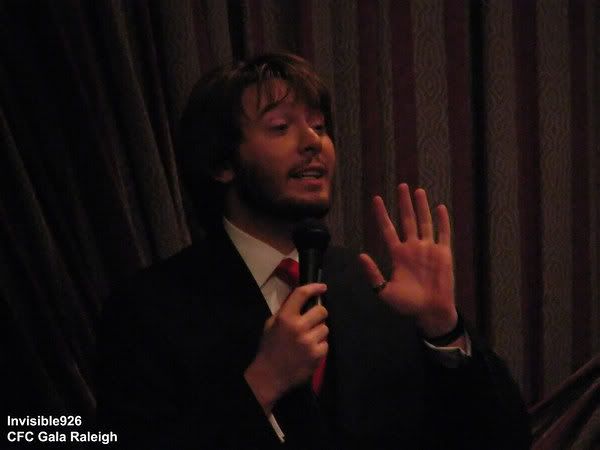 Gala Honors Champions of Change

Champions of Change honorees included State Farm Insurance, Beta Alpha Volunteers, Coach Jim Johnson, and 12-year old Jonathan Bunzey. You can read about them here.
TBAF's Beta Alpha chapters, established in 20 states and on nine message boards, actively raise significant funding and awareness to support the foundation's mission of full inclusion.
Full inclusion is a goal that has become more important now than ever before:
- In 2005, it was estimated that 1.77 million Americans were affected by autism
- In the United States today, Downs Syndrome affects more than 350,000 people
- In all, approximately 500,000 people in this country have some degree of cerebral palsy
"I am proud to celebrate the accomplishments of our honorees. Our own Beta Alpha volunteers' passion and dedication to raising awareness all across the country should inspire all of us to use our voices to make a difference in our own communities for inclusion," Clay said.
PHOTO INTERMISSION: The clickable interlude features the graphic designs and photographs of seven talented fans, including Amazing_CA, photo by dc4clay, #1; Amazing_CA, photo by Karen Eh, #2; ABeautifulMind, #3; Ambassador of Love, photos by Karen Eh and SecretlyLovesClay, #4; and ClayAikenFan86, #5.


Clay Talks About ATDW in Podcasts

Amidst the hoopla in Raleigh, fans at home discovered a treasure in the five 12/11/06 podcasts at iTunes. In these interviews, Clay expounds on song selection and the recording of ATDW, his passion for TBAF, and his experiences as a UNICEF ambassador.

If you have iTunes on your computer, you can download the podcasts at no cost. You can also obtain the set-up free of charge.
I am an iTunes newbie, so I hope these instructions work for you: go to the iTunes Store, then to Podcasts. Type in "Your Idols" in the upper right SEARCH box and you should locate the Clay Aiken Exclusive Interviews 1, 2, 3, 4, and 5.
Below are some highlights from the five podcasts. There is a little paraphrasing, but most are direct quotes from the singer himself.

Here you come again. Just when I've begun to get myself together, you waltz right in the door, just like you've done before and wrap my heart 'round your little finger ...
Here You Come Again
"Some of the songs on the album are favorites of mine just because we changed them up so much. My Mom was a huge Dolly Parton fan, and one of the songs I obviously heard a lot of was HYCA ...
"Jaymes asked Adam Anders to see if he could do anything to it [make it a ballad], and he sent it back to us. We were sitting in her car, and we almost ran off the road because his version of that song was just absolutely amazing. He changed it so much and made it so different that it's easily become my favorite song ...
"It's just kind of funny to me because here I am 28 years old and I've had the opportunity to sing a song that, growing up, was my mother's favorite, and it must have been one of mine because it stuck with me for so many years.
"I not only got a chance to record it, but I'm friends with the person who played piano on the original album [David Foster] and I got to do it in a way that kind of makes the song different and makes there be a Clay Aiken version, too."

Baby, don't understand why we can't just hold on to each other's hands ...
Broken Wings
"Broken Wings" is a favorite song from Clay's youth, but he and Jaymes wanted an ethereal, haunting feel to the arrangement. He talks about recording the vocals and the spoken parts.
" ... we found that there were gaps in places to maybe put a poem, so we called a friend of mine who had written stuff before. Initially, we thought we'd have her just say the lyrics in the background; and instead she wrote a poem that kind of went along with the song's title and message.
"She read it and got completely done, and I said, "Say your last line again --"We are broken, but we are moving still" -- and she did it, and I asked her to do that again and then say "A thousand different ways," and she did it ... and we all got chills!"

Through my eyes, I have seen the world start spinning like a ball ...

Choosing the Originals

In the third podcast, Clay explains the process of choosing the album's four originals -- "A Thousand Days," "These Open Arms," "Lonely No More," and "Everything I Have." There are gems about all four, but I particularly like the segment about EIH:

"Every time I played three or four songs for friends if there was a woman in the room and if she didn't cry on the demo, she would say, 'Oh, I want that song at my wedding' or ... 'You've got to do that song!'

"So every single female in my life or not in my life has said this is the song to sing, so I said we will put it on!"

If we can't solve any problems, why do we lose so many tears ...
Every Time You Go Away
"Every Time You Go Away" plays in the background as Clay talks about the melding of singing, teaching, God's plan, his passion for inclusion of children with disabilities, and TBAF:
"I think that God wanted me to learn about other things first, to become passionate about something else, because I honestly believe that if I had left high school and gone straight into singing in LA or Nashville before I had some world experience, I would have done this all for me.
"I'm really happy and thankful that I had the opportunity to learn about other things, to learn about individuals with special needs, and have a passion for that. I got to meet the Bubel family; and, with them, started the foundation that we have now ... "

I gotta take a little time, a little time to think things over. I better read between the lines in case I need it when I'm older ...
I Want To Know What Love Is
In the final podcast, accompanied by strains of I Want To Know What Love Is, Clay talks about his appointment as a special ambassador to UNICEF:
"I guess we somehow caught the ear or the eye of UNICEF, and they have different celebrity ambassadors that work in different areas whether it be clean water or advocates for aids and women's rights. They work in education, and one of their biggest areas of concentration is making education accessible for all kids in the world. As a teacher, it was kind of in synergy to ask me to do that, so they called me up and asked me to be an Ambassador of Education ...
"I took my first trip to Indonesia in early 2005, and I was told it would be a practice run to prepare me for the types of things I would see on these trips. I remember getting off the plane in Banda Aceh and the very first place they took us was a huge, empty field where the ground was unsettled ... now a mass grave with 35,000 bodies in a field of no more then two acres ... "
In my life there's been heartache and pain, I don't know if I can face it again ... I Want To Know What Love Is.


Many Thnx from Texas Claymate
Thank you for your outpouring of prayers, get-well wishes, and candle lighting at the Gratefulness site for my mother-in-law, Nina. She asked that I tell you how much she appreciates your love and concern and that she felt both, even in West Texas.
I read her your messages from the NinaB candle page, as well as the ticket-buying ordeals relayed in the previous blog. She was happy to hear Clay will be in Texas this summer but sorry she and I didn't attended a concert together while she was healthy.
Unfortunately, Nina has a grocery list of ailments dealing with heart and kidney failure. She will be in the hospital through the weekend, but hopes to go home next week with a new health regimen.
Thank you again for the kindness shown this special Texas Claymate.
With the assistance of Cindilu2's beautiful new calendar featuring photos by Karen Eh and Scrpkym, here's to a very happy first week of April, Clay Nation!

Caro
RELATED TAGS: Clay Aiken, A Thousand Different Ways, The Bubel/Aiken Foundation, Champions of Change Gala, Six Degrees.org, iTunes Podcasts, Kevin Bacon, TBAF Charity Badge, Beta Alpha Volunteers, UNICEF, Everything I Do, Here You Come Again, Broken Wings, Everything I Have, Every Time You Go Away, I Want To Know What Love Is,Gratefulness Candles, Clay Nation
0 Comments | Read More→