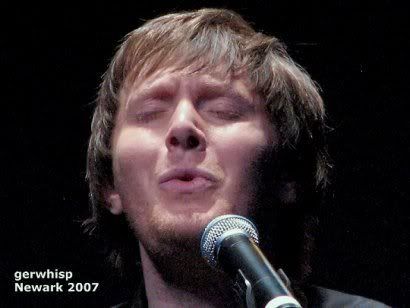 Vocal nuances in New Nersey -- Photo by Gerwhisp
Birthday Greetings for Sally!
Clay Wows Newark Audience
Accompanied by the New Jersey Symphony, Clay Aiken & Co. wowed a very enthusiastic audience at the New Jersey Performing Arts Center Saturday night with passionate, soulful, and entertaining vocals, as well as personable humor and charm interwoven throughout the two-act show.
Clay even added a tumbling segment to the Newark show as he jumped off the stage for some audience assistance on the song "The Way You Make Me Feel." Hopping back onstage proved to be troublesome, but the crowd loved his belly-flopping antics clamoring back up the five feet.
Here in the Piedmont, the plan to return home after a one-hour reception gig in time for the New Jersey cellcert ran into its own set of problems. LAP and LACIE welcome FLUTIE to the dialogue as the trio explains what went down ...

Tardy for Newark Cellcert
LAP: OK, FLUTIE, give. Your flute-violin gig was over at 7, and you had a whole hour to hustle 29.81 miles from Winston-Salem back to Greensboro. Why were you guys late for the cellcert?
FLUTIE: Would you believe that after the gig we got lost coming home? You know, this is the norm when we perform in Winston. Caro's BIL will absolutely love this story. They talked Saturday afternoon, and he joked that the best thing for her to do when going to Winston is to disregard directions, just get into the car, and drive. I believe it!
LACIE: The weather wasn't too pleasant either. We heard that downpour just when y'all left the house.
FLUTIE: Yep, the music and I were safe in the gig bag; but the stand and Caro got soaked. Thank goodness for A/C and those curls she inherited from Mama Mac. After a 38-minute drive, the black dress was dry and she still had a respectable "do." Different but decent.
LAP: So what happened to being home by 8? We wanted to hear Clay's "Here You Come Again" entrance in New Jersey, but he was into the American Idol shtick when she finally turned me on.
Name Change Throws Curve
FLUTIE: Caro printed Mapquest directions to get to the gig and thought all she had to do was trace them in reverse. Who knew that Fairlawn becomes Silas Creek Parkway? And the first time around we zipped right past it.
LAP: Sounds like she took her BIL's advice and just started driving around aimlessly.
FLUTIE: Well, she drove a long way on Reynolda before finally turning around. When she spotted a McDonalds, we made a dash for the drive-through where she ordered a small coke and told the man in the machine trying to interest her in a combo that what she really needed was directions to Silas Creek. Fortunately, we were about a block from Fairlawn. I'd say that's the best $2.07 she ever spent!
LACIE: So how was the gig? We know she's been spending a lot more time with you than us this week.
87 Tunes in an Hour!
FLUTIE: Well, she did need to work up her flute chops and get familiar with the play book. Would you believe that thing contains 87 different songs? On the other hand, I know that LACIE is up to 11 GB's of tour clack; and several files were added on Saturday before we left.
LAP: You're right, FLUTIE. The girl is a downloading fool. So how did you play 87 songs in one hour?
FLUTIE: We didn't; we just chose songs as we went along. We played such headliners as Bach, Handel, Vivaldi, Telemann, Mozart, and Haydn along with some blues and Broadway tunes. My duet partner is an excellent violinist, and we took turns playing lead during the reception, meaning we did a lot of sightreading, kind of like the Nashua Symphony in Clay's Meadowbrook concert.
LACIE: I guess all is well. Caro heard most of the cellcert, plus she's already downloaded the audio and listened to it twice!
PHOTO INTERLUDE: Among the many pictures posted from the Newark concert are these clickables by three photographers, including Denise Bernadette, 1 and 5; Toni7babe, 2 and 4; and Gerwhisp, 3.

Birthday Songs, Knoxville Tune-Ups
LAP: Sheesh, I don't know about Clay & Co., but I'm glad there's a little breather before the tour swings through California Thursday. Maybe we can do something around here besides clickity clickity clack -- though there's nothing like listening to Singer Man's pipes.
FLUTIE: I heard Caro tell the violinist she's having her car serviced Monday in preparation for the Knoxville concert, so you guys might get a one-day break anyway.
LACIE: Meanwhile, we need to tune up our vocal cords. This is a special day for a very good friend, Sally888.
LAP: Sally's not blogging anymore, but friends and readers can still access her OFC journal. She usually reads our entries, and there's a celebration going on in Clayversity's Paint Shop Pro Forum, which she founded.
LACIE: Many thnx to Cindilu2 for designing our card. Are you two ready?FLUTIE: I'm improvising an obligato, so hit it, guys.
ALL THREE (clearing throats, head joints, and hard drives):
Happy Birthday to you,
Happy Birthday to you,
Happy Birthday, Miss Sally,
Happy Birthday to you!

... and may you have many more!!!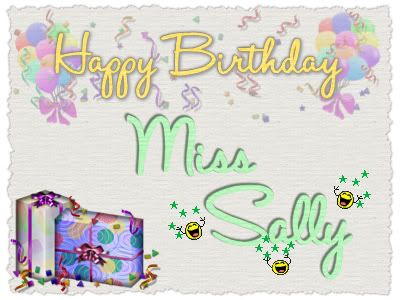 California 4-fer Opens Thursday
CA fans long ago tagged the coming week's Summer Tour concerts as the "California 4-fer." This is the schedule:

Aug 2: Embarcadero Marina Park South, San Diego
Aug 3: Pala Casino Starlight, Pala
Aug 4: Greek Theatre, Los Angeles
Aug 5: Fantasy Springs Casino, Indio
Below is a clickable of Gerwhisp's opening photo: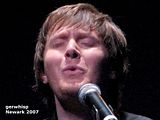 Have a wonderful week, Clay Nation!

Caro
RELATED TAGS: Clay Aiken, A Thousand Different Ways, Measure of a Man, 2007 Summer Symphony Tour, An Evening with Clay Aiken, New Jersey Performing Arts Center, New Jersey Symphony Orchestra, cellcert, Official Fan Club, Clay Nation
0 Comments | Read More→