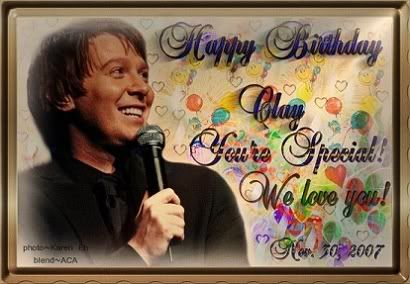 CITH Blend by ACA, photo by KarenEh
May the joy you share with your magnificent talent and caring heart be returned ten thousand fold in health, happiness, and love, seasoned always with goodly portions of snark, laughter, and magic! -- Caro


ANNUAL GIFT -- Clay Aiken's Christmas tours are a special gifts to his fans every holiday season. Graphic by ABeautifulMind, photo by SmartyPantsSuz.
Holiday Gift to Fans
Press Applauds Heartland Tour
As Clay Aiken's Christmas In the Heartland Tour rolls through the Midwest, the concerts are receiving excellent reviews from both fans and local press.
Previous blogs have concentrated on fan recaps. Today's edition features excerpts from two newspapers. The first, Aiken's Holiday Fare Doesn't Disappoint Faithful Fans by Jeremy D. Bonfiglio of the South Bend Tribune, is a thorough recap of Wednesday night's concert there.
The entire article bears reading. Here are some of the highlights:
SOUTH BEND — Julia Maish stood on the right side of the Morris Performing Arts Center stage recounting one of her most vivid Christmas memories.
It involved a borrowed black dress, a handsome, but intoxicated young stranger, an unfortunate fire to said dress, and a bowl of eggnog that doused the flames.
"That was the first time I ever really sizzled," she said as Clay Aiken smiled broadly at the center of the Morris stage.
Maish was one of four South Bend audience members invited to share their holiday tales Wednesday night during Aiken's "Christmas in the Heartland" tour stop.
Aiken Presents Polished Medleys
A relaxed and polished Aiken, dressed in all black, eased into a soft rendition of "O Come, O Come Emanuel," then, with the Bill Porter Orchestra, a Chicago jazz band, in tow, he launched into the first of the show's three holiday medleys.
It all led to the undeniable concert highlight, "Don't Save It All For Christmas Day." Whether they knew it or not, this was the moment the audience was waiting for. Reminiscent of his "American Idol" performances, Aiken pushed his vocals to hit the big notes, which he did to perfection.
Following the opening week's five concerts, the Heartland Tour heads to the East Coast and New England. Final performance of the midwestern leg will be at 8 p.m. CST Friday in the James W. Miller Auditorium in Kalamazoo, MI.
SOUTH BEND PHOTO INTERLUDE: Featured are clickables capturing scenes from Wednesday's Heartland concert in South Bend. Included are photos by KarenEh, 1, 2; Toni7babe, 3, 4; and FiveGoldens, 5.
WAUKEGAN PHOTOS
: Among the scenes from Thursday night's performance in Waukegan were these captured by photographers

ClayfaninMN

, 1, 2, 5; Toni7babe, 3; and

Shoryjill

, 4.
Blog, Radio Interview Tout Tour
Publicity for the tour continues to appear in print, on the Internet, and on the airwaves.
Preparing for an interview with Clay in conjunction with New England tour stops, Sean McMann, a sportswriter from the Poughkeepsie Journal, requested questions from the singer's fans for his blog.
Was he ever surprised with the response! His inbox "runneth over," and you can read all about it at Sean's Space.
If you haven't heard the new Mix 107.3 radio interview from Washington, DC, you can download it here. The DJ was very effusive about Clay being "a singer's singer." Lots of gems in this piece!
Tour, Album, 'Spamalot' Discussed
An excellent article appearing online and in Thursday's "Live" section of the Baltimore Sun -- Aiken Molds His Own Way -- not only plugs Clay's Washington, DC, holiday concert, but also provides interesting information about the singer's next album and his upcoming "Spamalot" role on Broadway.
Below are excerpts from the Baltimore story. The art in the middle is from an email Lindylo received heralding the end of the Broadway strike. For more details on that, see Shows To Resume on Broadway; Strike Ends.
According to CravingClay, a full page picture of Clay leads the "Live" entertainment section. These are selected paragraphs:
Clay Aiken knows he isn't cool. He doesn't seem to mind.
He's been fighting to stay that way after being launched into the ranks of superstardom as the runner-up on 2003's American Idol.
The show's quintessential nice guy never wanted to sound like he's in his 60s or like he's trying too hard to be cutting-edge.
"If I tried to be cool," Aiken says, "it would be like your parents using slang and sounding weird."
He's fought with managers over his image and argued over song choices, saying that many of the songs that were proposed to him were great, but they were better suited for Justin Timberlake or Maroon 5.
But Aiken, who will perform a holiday concert Sunday at D.C.'s Warner Theatre with the Concert Artists of Baltimore, has stuck to what he knows he's good at - showcasing his vocal prowess rather than his dance moves or beats.
Singer Earns More Studio Control
Regardless of his success, Aiken is still trying to get where he wants to be musically.
His first album, he says, was sort of a "scrapbook" of different producers, which made every song sound different. But now, he says, his albums have some sort of continuity.
Aiken says he has gained more control in the studio. For his fourth full-length album, in pre-production, he has more of an influence when choosing songs and producers, which affects the direction of the album as a whole.
Aiken Anticipates 'Spamalot' Role
But Aiken is broadening more than his musical horizons by appearing on a different type of stage in January.
Aiken was recently cast in the role of the less-than-heroic Sir Robin in the Broadway production of Monty Python's Spamalot, a critically acclaimed, Tony Award-winning musical directed by Mike Nichols.
Aiken accepted his role in Spamalot after being offered a hefty number of roles over the year. He says that although his recording and touring schedule usually prevented him from taking any of the other offers, Spamalot was something special.
"It happens to be one of the stupidest shows on Broadway," he says. "Not in a bad way, though. It's just silly."
Aiken was really intrigued with the idea of doing something a little left of center, and Spamalot certainly fit the bill.
Surprisingly, it took Aiken awhile to warm up to the musical. He needed to see it twice to realize that there isn't much of a plot.
"It has a bunch of skits put together that are all hilarious and different," he says, "but if people are expecting Phantom of the Opera, Hairspray, or Les Miserables, they should probably go for something else."
Before Aiken hits Broadway, he will finish the rest of his Christmas tour.
SEASONAL INTERLUDE -- The Clay Aiken fandom is blessed with many talented visual artists. Featured in this clickable interlude are Cindilu2, December calendar with photos by Scrpkym, 1; Amazing_CA, photos by dc4clay, 2; Cindilu2, photo by KarenEh, 3; Artz11, photos by SmartyPantsSuz, 4; Ambassador of Love, photos by PermaSwooned, 5.
A Most Memorable Cyber Monday
I do some of my best thinking in the shower. Unfortunately, these amazing watershed revelations usually occur in hindsight after the fact. This past Cyber Monday was a perfect example.
After touting the benefits of the Internet version of Black Friday in the Nov. 24 edition of this blog, I was up bright and early completing lists, checking for coupons and/or free shipping, and clicking my way through some really good bargains to the end of my Christmas gift-buying.
Most sites require purchases of a certain amount to qualify for free shipping, so after much deliberation and price comparison, I moved the majority of my selections to my Amazon cart.
After a couple of hours, gifts for relatives and friends in four states were covered nicely. On Monday afternoons I teach lessons in an adjacent city, so the next order of business was a shower.
That's when the boulder of common sense hit me -- I could have sent five items straight to Texas with FREE SHIPPING!!!
Still dripping but spurred by the shower's money-saving epiphany, I made a beeline to my computer to undertake damage control. The major problem was that in two cases, I had selected the same gift for a Texan and a North Carolinian.
Customer Service To the Rescue
After attempting the changes online, I contacted Amazon. In an age when speaking to a live person is rare, I must give this site props. Phone calls are returned promptly. In fact, the minute you type in your number, the word "ringing" appears on your computer screen. Simultaneously, you realize your phone is indeed doing just that.
The only problem was this southern gal was speaking with a woman half way around the world in India. Intertwine her accent with my regional drawl, and you can imagine the time we had working toward a solution.
Actually, the Customer Service rep immediately knew what to do. Our problem was that we could only understand each other's conversation sparingly. After about 30 minutes, we somehow began speaking the same language. The gifts for Texas were removed from the list, and I was told to place that part of the order again with new mailing instructions.
Relieved that my shopping was finally complete, I was signing off when I noticed that in my exhilaration, I had reversed the billing and shipping addresses. Fortunately, I was able to tweak that with a couple of clicks. Otherwise, my daughter would have been sent the bill and all the gifts would have been shipped to me after all!
I think I will start taking showers before all major undertakings, including future Cyber Mondays!
Below is the clickable of ABeautifulMind's opening graphic: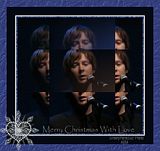 Special thnx to Margarert5828 for the South Bend cellcert. Have an awesome week, Clay Nation!
Caro
RELATED TAGS: Clay Aiken, Christmas in the Heartland Tour, Spamalot, Broadway, Cyber Monday, Official Fan Club, Clay Nation
0 Comments | Read More→