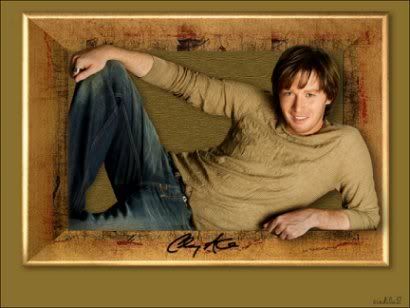 IS IT JULY YET? -- Clay Aiken launches his Summer Symphony Tour with July 4 festivities in Frisco, TX. Hawt graphic by Cindilu2.
Aiken Summer Tour Awaits
Bod, Heart Submit Final Report
Since we -- BOD and HEART -- masterminded Tuesday's successful cath lab procedure, we thought we'd pass along some of our experiences, which, hopefully, will prove beneficial for others scheduling similar medical adventures.

This blogging thing has been kind of fun, but our next assignment is physical fitness. We want to make sure Caro receives the same good report next year or if the terms "stress test" and "cath procedure" are used in the same sentence, she will be able to run fast enough to get away. Just teasing, though that's not a bad idea.

HEART: Before we tell you about our day at the hospital, we thank you -- from the bottom of me -- for all your thoughtful messages, good vibes, prayers, candle flames, and my specialty, love, that you have shown us these past few days.

BOD: Perhaps the third time was the charm, as the two-year pattern of cath procedure-stent intervention has finally been broken. All along, Jnyoyo has predicted only positive results because our appointment was scheduled on her birthday. Maybe she was our good luck charm!

HEART: Since the ole girl has been in a Valium Fog all day, we'd better do the talking. Just before we rolled into the cath lab, she had to chew an orange-flavored baby aspirin (ewwww!!!) and swallow a valium. Add that to her normal Aiken Fog, and functionality has been rather limited.

BOD: So while she's recuperating, we thought we'd take over the blog and share some of what we learned this time around. Since all cardiac systems seem to be functioning well, we feel very qualified to pass along helpful hints to others scheduled for medical procedures.

Bod & Heart's Procedure Syllabus

1. Plan to leave all modesty and inhibitions at home. In the prep area, as well as the lab itself, caretakers will be both male and female. When all is said and done, they will have seen and dealt with your body from all angles.
In this, you just have to go with the flow. While a male nurse was wielding his razor, that crazy Caro asked if he couldn't just go ahead and wax both legs. He grinned and went with the flow.

2. Despite living in the Age of Technology, be prepared to repeat your medications list at least three times, often within 30 minutes. Makes you wonder who's in charge of networking.

3. Be aware that lying in a bed across from a nurses station with side-by-side computers encourages acute waves of that dreaded syndrome -- Internet Withdrawal Trauma.
4. Make sure your accompanying family member has a similar disposition because it's best to be around someone who sees humor in the serious.
As in previous years, Caro's sister was her partner. Every time we go through one of these procedures, Sis brings along three bags of newspapers to read and discard. So in a sense, these annual get-togethers clean out one house while filling up another.
5. Instead of trying to remember all the nurses' names, assign them a nickname. One of our favorites this year was Hummingbird. No matter what she was doing -- asking for the meds list, securing an IV, you name it -- she hummed the same three-note phrase over and over.
Both music majors, Caro and her sister immediately knew the intervals of H-Bird's song, for which they politely refrained from analyzing or harmonizing. Wonder what H-Bird would have done if the siblings had added impromptu alto and tenor lines to her tune. That was our FUNNY BONE interjecting, btw.
Expect Frigid Temps in Cath Lab
6. Rolling into the Cath Lab where the thermostat is locked on 55 degrees, mentally transport yourself to a warmer climate. Be careful with your movements (i.e., don't start doing the hula on the flat board) because the techies have you so well-monitored, they recognize even the tiniest adjustment.
It doesn't count that you were trying to slip freezing fingers under a blanket. What matters is those digits may have entered a previously sterile zone. Sheesh!
7. In our vast experience (three caths and two stent interventions), technicians are (a) good-looking, (b) intelligent, (c) fun-loving goof balls, or any combination. On this excursion, ours personified (a) and (b) in spades.
8. Ask lots of questions. We learned the reason for the 55-degree temp setting is to cut down on bacteria growth. Another is that the technicians get quite warm in the long lead vests worn beneath their scrubs. The chilled, shivering patient can ask for more blankets to cover non-sterilized areas of concentration; but no matter what, this is usually a teeth-chattering occasion.
PHOTO INTERMISSION: To warm things up, here are five clickables from six talented visual artists, including Amazing_CA, photo by Karen Eh, 1; Amazing_CA, photo by Scrpkym, 2; A Beautiful Mind, 3; Ambassador of Love, 4; and Cindilu2's July calendar, 5.


Heart Receives Rave Reviews
We don't know about y'all, but after that hawt interlude, we had to look for our Clay Aiken church fan. Lawd Jesus, indeed! Back to the syllabus ...
9. During a cath procedure, the patient might as well enjoy the picture show on the overhead screens. What an awesome opportunity to view your BOD in action. This year HEART performed exceptionally well with good blood flow from all angles. The suspect area from the earlier stress test turned out to be nothing at all; and the two previous stents are "looking good," our doctor informed. All in all, a Standing-O!
10. The main event is followed by 30 minutes in the Holding Room where technicians apply constant pressure to seal the catheter's entry area. Best of all, the patient is rewarded with a steady supply of blankets from a nearby warmer.
Amazingly, our duo of nurses have offspring majoring in oboe and flute; so the discussion centered on the procedure and music. While one nurse presses, the other feeds the info into a computer less than three feet away, again stimulating serious IWT symptoms.
11. Physicians require their cath patients to lie perfectly still for 2-6 hours following this procedure. Our doc opts on the safe side with the max, so our horizontal incarceration began at 4 p.m. Back in the original prep room, any ideas that the fast since midnight would finally be rewarded with food were promptly dispelled.
First, a beverage is allowed, followed two hours later with a meal. Miraculously, lunch/dinner arrived at 5, which no one seemed to mind, especially us. Eating from a flat-on-your-back position requires a certain degree of hunger and dedicated resolve. We were "up" for both.
Clever Clay Friend Finds a Way
12. These days a friend who wants to check on a patient's status must be cagey and quick-witted. Sis was on a bench outdoors fielding phone calls from relatives, so her cell was busy. Not to be denied, Sally888 dialed the hospital and informed the operator she was calling from Georgia to inquire about her sister.
"What's her birthday?" she was immediately asked. This "sister" knew the day, but guessed at the year. Next, Sally had to supply our street address, to which she has mailed many items. Promptly, a handset was brought into our room by a nurse who said, "You have a phone call from your sister." One very clever sister!
13. This point is second nature for Clay Aiken fans. Whatever you pack, be sure to include a variety of CA music to last a day or two. A Clay-filled iRiver Clix sustained us during those long hours in prone position.
Following this spring's computer crash, Margaret5828 helped us replenish Clay's early demo and AI2 performances, while Aspiegirl made sure we included, among others, what has become this week's theme song -- "All Is Well."
14. The plus side of checking into a hospital at noon for a 2 p.m. procedure is that one has all morning for last-minute preparations. For sure, Caro provided us a full cardio workout clearing a path for her sister, running the vac, and mopping the kitchen floor -- all before 9 a.m.
The bad news is release time is not until 10 p.m. Actually, after that morning workout, we didn't really mind the bed rest.
Heed Nurse's Exit Instructions
15. Be sure to listen to the nurse's final instructions -- no driving, no alcoholic beverages, no lifting items 10 pounds or more for 24 hours. First thing Caro did was pick up her moderately heavy overnight bag and walk towards the wheelchair for the traditional departing chariot ride. Nurse Stern gave us a sound lecture.
16. No matter how rough the IWT got during the day -- and, believe us, it was intense! -- be assured the trauma was immediately relieved when we returned home. Without passing go (or collecting $200, for that matter), the ole gal fired up this laptop to catch up on happenings around Clay Cyberspace.
17. For the required 24 hours, Caro and her sister, roommates even in college, enjoyed a good old-fashioned slumber party, a nice way to end the day.
BOD and HEART: Since this is our swan song in the blogging world, thank you again for all your kindness during this week's ordeal.
Though the Aiken Fog persists, the other seems to have dissipated; and this journal will be back to regularly-scheduled programming *SOON*!
After all, Clay's Summer Tour begins in less than a week, and there are plans to finalize for our Aug. 12 Knoxville sojourn -- starting with a similar tune-up procedure for the car.

Below is a clickable of Cindilu2's opening graphic: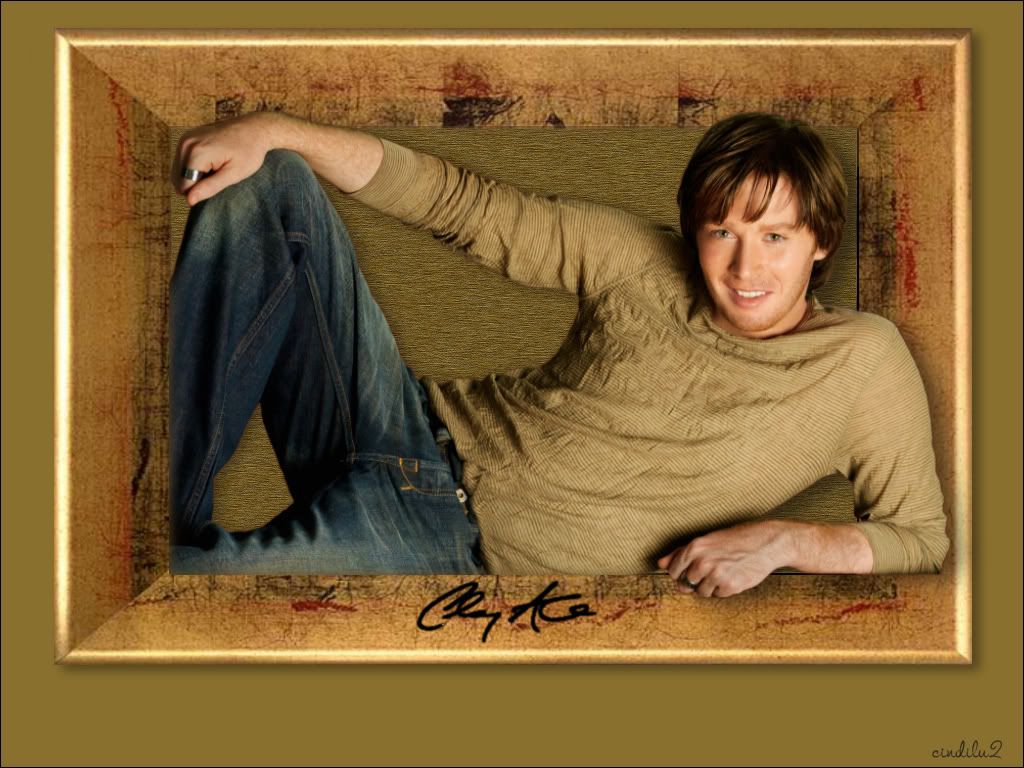 It's been real. Take care, and have an awesome week, Clay Nation!
Caro
RELATED TAGS: Clay Aiken, A Thousand Different Ways, 2007 Summer Symphony Tour, An Evening with Clay Aiken, Summer of Love, Cardiac Catheterization, Claymates, Official Fan Club, All Is Well, Clay Nation
0 Comments | Read More→