Graphic Design by Cindilu2, Photos by Scrpkym

A Treat for Piano Students
Editor Recalls Aunt Lill's Rolls
Some of my most memorable moments as a young girl were spent twirling around on a piano stool and learning to play the grand old upright whose tradition in our family dated back to my mother's childhood, as well as the previous generation of my grandmother and her six siblings, one of whom was my Great Aunt Lill.
Earlier this month Lisa Boykin Batts, lifestyles editor of the Wilson Daily Times, stirred a bowl full of remembrances for her readers and members of our family with a column about Aunt Lill's famous potato rolls.
In discussing recipes for leftover mashed potatoes, Ms. Batts told a personal story about Aunt Lill, who for 69 years taught piano to several generations of eastern North Carolina students. Some may recall my aunt from a July 2006 blog, parts of which are included here.
This is a portion of Ms. Batts' Feb. 7 column, A new way to use those leftover mashed potatoes:
When I was growing up, my sister's piano teacher, Mrs. George Tomlinson, often made potato rolls and shared them with us. We'd always be so happy when Susan walked out of Mrs. Tomlinson's house with her music books in one arm and a pan of rolls in the other. The rolls were so tender and delicious.
Mrs. Tomlinson's daughter, Josie, said her mother often made the rolls for friends or "someone who would be happy to have them."
Mrs. Tomlinson made the rolls by feel and memory, but Josie wanted the recipe in writing for a cookbook at First Christian Church; so she watched her mother make the rolls one day and wrote down the recipe. Josie said she tried to make the rolls once after her mother had a stroke. Her mother told her they weren't as good as they should be, so she didn't try them again.
Monday night Josie gave me a copy of her deceased mother's recipe. I adapted it to my bread machine and had very good results. I did have to add about another cup of water and had to convince my bread machine that it could handle six cups of flour (it almost didn't make it through the knead cycle), but it all came together nicely. The rolls were as tender as I remembered.

POTATO DINNER ROLLS

1/2 cup milk
1/4 cup potato water (I used tap water)
1/2 cup boiled and mashed potatoes (mine were leftovers)
1/4 cup butter or margarine (I used butter)
1 large egg
11/2 teaspoons salt
3 cups bread flour
1/4 cup sugar
2 teaspoons bread machine yeast
Melted butter for brushing

Add ingredients to bread machine pan in the order suggested by manufacturer. Select dough/ manual cycle. When cycle is complete, remove dough from machine to lightly floured surface. Divide dough into 12 equal portions; form into smooth balls. Arrange balls in greased 9-inch pan. (I had to use a second pan.) Cover. Let rise in warm, draft-free place until doubled in size, about 30-45 minutes. Brush with melted butter. This recipe makes very large rolls. Bake at 375 degrees for 20-25 minutes or until done. Remove from pan, and cool on wire rack. Adapted from www.breadworld.com.

MRS. TOMLINSON'S POTATO ROLLS
1 yeast cake* (2 1/4 teaspoons active dry yeast or bread machine yeast)
1 cup lukewarm water
1 teaspoon sugar

1 cup hot mashed potatoes
1 cup shortening
1/2 cup sugar
2 teaspoons salt

2 slightly beaten eggs
6 cups bread flour

Mix the first three ingredients. Mix and cool the the next four ingredients. When cool, add yeast mixture and 2 slightly beaten eggs. Mix in 6 cups bread flour. Mix and put in covered bowl in refrigerator. Form rolls 1-2 hours before baking in a 400-degree oven until brown. Makes 5-6 dozen.
NOTE: I added all ingredients to my bread machine in the order suggested by manufacturer. (I let the potatoes cool slightly. These were not leftovers so they did not have butter, salt and milk added. My machine had a hard time making dough with 6 cups of flour, and I ended up adding almost another cup of water. I made the dough into small rolls and let rise about 30-45 minutes, then baked as directed.
My Aunt Lill was indeed a remarkable lady and her students very fortunate.
PHOTO INTERMISSION: This clickable interlude features Clay Aiken in recent TV and concert appearances. Visual artists represented include Amazing_CA, photos by Butterflyshine, #1 and #2; MNmeesh, photos by Butterflyshine, #3; Amazing_CA, photo by NYFan626, #4; and Claysmelody, photo by Ztilb, #5.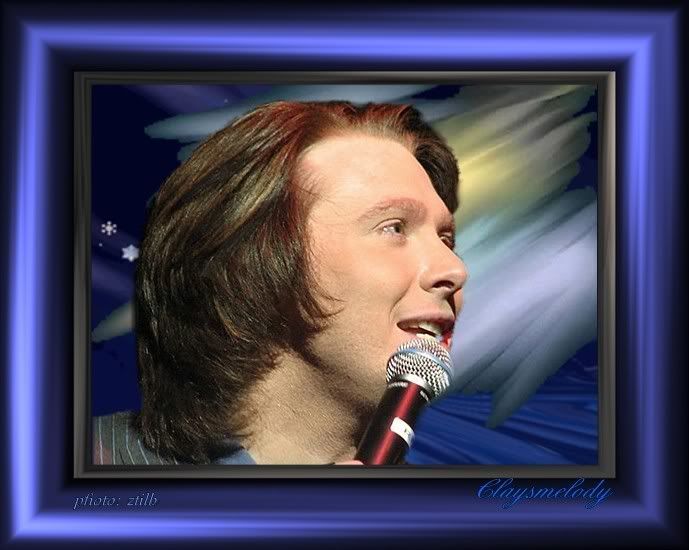 Musical Heritage Remembered
Until the Chapman Clan moved into town, the children were educated at their home in Pitt County by a teacher their Papa hired. Not only did this woman instruct the siblings in the three "R's," but she also taught them piano. My Great Aunt Lill informed Papa she knew more than the teacher, so he promptly sent her to Atlantic Christian College (now Barton) to study.
The family eventually moved into Grifton where there were public schools, but lessons continued on our family's grand old upright, producing several outstanding musicians -- my grandmother, Aunt Lill, my mother, and her sister, Aunt Gladys.
Upon graduation at age 20, Aunt Lill started instructing piano at ACC, eventually teaching several generations of students in her home studio in Wilson. Fortunately, the old Chapman upright became my mother's piano.

During my childhood in Wilmington, money was tight; and I only received about one year's worth of piano lessons. My sister was only interested in the flute, and my brother chose other instruments, too. Prior to the year of lessons, I had utilized my treble clef knowledge from clarinet studies in band and quizzed my mother enough to figure out the bass clef on my own. Hymnals and a stack of her old Etude magazines were my training ground; so when I actually took piano, I didn't fit the beginner mold. The teacher finally started me in the middle of Book 2.
From Day 1, I loved sightreading new music more than the repetitive practice required to polish pieces for lessons and recitals. Even after the instruction stopped, I kept reading through those Etude books of classics and anything I could get my hands on. A side benefit was that I was often relieved of evening dishwashing duties because I was "practicing." I have passed that little hint along to my own students.
Aunt Lill Shares Teaching Tips
Mr. Caro and I taught band and orchestra in Texas prior to our move to Nashville in 1973. The stork located us almost immediately following our arrival in Tennessee, and I turned to piano teaching as a means to supplement our income while raising our young daughter.
With neither keyboard lit nor pedagogy courses in my background, my sources were my experience, some piano teaching friends, and Aunt Lill, who shared many instructional techniques, methods, and tips. Like my aunt, I taught approximately 50 students a week -- some before school and some the minute they could get to my studio after the dismissal bell. Our house became a school bus stop for many.
Through the years, my students have won lots of awards and top ratings. Almost all presented 10-piece programs for an adjudicator each spring. In an agreement between the Nashville Area Music Teachers and Davidson County, several also received high school credit for their lessons.
Following a career as an orchestra director in Nashville and Greensboro, I now teach a few music lessons each week. I am grateful for my family's musical heritage and enjoy passing the joy on to others.
I must admit I have never prepared my aunt's potato rolls, but just reading her recipe strikes up the most sublime aroma within my sensory imagination. I hope someone gives Aunt Lill's rolls a whirl!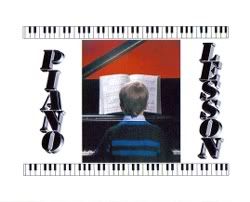 Piano Lesson Design by Sally

CLAY AIKEN NOTES: Since I have spent my word allotment down memory lane, I will just mention a couple of finds. For the latest news reports about Clay, The Bubel/Aiken Foundation, UNICEF, be sure to stay tuned to Clay's Daily Double.


In My Top Ten, a 2/25 Live Journal blog about favorite selections from the writer's vast iTunes collection, Laura wrote:
I'm not embarrassed to admit that at the top of my list is Clay Aiken's version of "Broken Wings." He doesn't even show off his vocal range in the song, but he understood the words of that song and turned an 80's AC staple into something wildly gorgeous, and of course, it speaks straight to my heart. Following that at a distant but telling second is Josh Groban's "You Are Loved." Telling, indeed. On many levels.


From another blog about The Web's Most Popular Keys:
I was doing some digging in Lycos Top 50 when I found this and decided to publish: "Clay Aiken -- We may have thought he'd be a flash in the pan, but Clay has been on the Lycos 50 for 190 weeks due to the ardent admiration of the Claymates. Their loyalty will persist through all of his hairstyles."
The blogger has that partially correct -- we came for the voice and stayed for the man. More and more, others are following suit.

Congratulations to American Idol alum Jennifer Hudson, who Sunday night was presented the Academy Award for "Best Supporting Actress" in the movie Dreamgirls!
Have a wonderful week, Clay Nation!
Caro
RELATED TAGS: Clay Aiken, A Thousand Different Ways, Broken Wings, Lisa Boykin Batts, Wilson Daily News, potato rolls, piano lessons, Clays Daily Double, The Bubel/Aiken Foundation, UNICEF, Lycos Top 50, Claymates, Jennifer Hudson, Academy Award, Dreamgirls, Clay Nation
0 Comments | Read More→