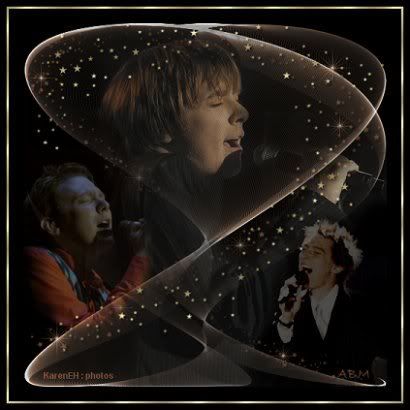 ON THE ROAD AGAIN -- A Beautiful Mind's handsome graphic recalls past Clay Aiken tours, as preparations are completed for the singer's cross-country concerts with symphony orchestras. Photo by Karen Eh.
April-May Mailbag
Readers Complete Narrative

Some days are diamonds, some days are stones -- from the John Denver song
During the past two months, this blog has featured a mixture of "diamonds and stones" in segments about Clay Aiken -- the upcoming Summer Tour and the obligatory ticket-buying tangos by his fans to various appearances, charity work with The Bubel Aiken Foundation and UNICEF, as well as many media mentions about this successful singer from North Carolina.
Interspersed with the journal's main focus on CA activities have been an assortment of personal pieces, among them remembrances of Mama Mac on Mother's Day, my students' recent dress rehearsal and spring recital, computer repair woes and tough lessons learned losing months of unsaved files, a "misplaced" cordless phone delivery, my infamous reputation in radiology for stress test mishaps, and a grand-nephew's unique take on soccer.
Augmenting these entries are handsome graphics, photos, and montages by the CA fandom's very talented visual artists, to whom readers and I are most grateful.
The other component of each narrative, one that many rarely see in its entirety, is expressed in the assembled comments readers write on a variety of subjects. From time to time, I like to highlight the stories, opinions, and remarks of readers with a mailbag blog. I hope you enjoy this spring rewind.
Prior to the Season 6 finale of American Idol, this corner recalled Clay's surprise appearance at the AI5 Finale and the overwhelming media blitz that followed what could conceivably be termed his delayed "confetti moment" for Season 2:

Radclaylvr (New Jersey): I was not part of the Clay Nation for AI5 (always liked Clay, just wasn't obsessed like now). I had no clue he might be on the show, and I about fell over when I saw him! And as for your blog below and the CNN mention about there is only one Clay Aiken -- so true! No one else could ever compare!!!
Rima23 (Seoul, Korea): Those pictures remind me of the AI5 moment, and he was just beyond my imagination. I know some Korean fans who went crazy about him after the AI5 moment.
Caliclayfan
(California):
It was one year ago tonight (AI calendar, that is) that Clay came back into my life. I was clueless of message boards until that memorable night. And all the secrecy and rumors, I had no clue! So it was a very pleasant surprise to see him walk out on to that stage with such confidence. I was floored when I realized how much I had been missing!
Claygachic
(Georgia):
Thanks for the great recap of the AI5 finale. That is a moment that I will never forget. I remember that when Clay walked out on that stage, I literally flew off my couch in mid-air.
Cindilu2
(Ontario, Canada):
I find the AI memories much easier to take these days. My big fear that night was that we would lose him. But then the next day I decided to search his name on the Internet (something I'd rarely, if ever done) and just see if anybody else was as scared as me. The very first link that came up was to claytonaiken.com (AKA The Clayboard); and the rest, as they say, is history!
Clay has triumphed, not just by virtue of one of the greatest voices of our time, but through his hard work and tenacity. So yeah, I can watch the finale now. I even watch it with a smile. Thanks, Clay!
Many thnx for all the comments in the spring recital and rehearsal recaps of May 21, May 18, and April 28.
My students are amazed that people throughout the US and Canada were interested in their recent performance. They appreciate your applause and the many "bravo" cheers. There is no "Caro-ack," as one reader dubbed possible recital clack.
Galadriel (Ohio): I am on pins and needles! I can't wait to hear how the recital went. I was in ONE piano recital in my life and I assure you, it was one too many. I am much better vocally, LOL!
I am delighted to hear that you instruct your students so well and include such aspects of a proper performance as the proper bows including the "hippopotamus" technique. Vocalists use "watermelon" when they forget the lyrics while singing in chorus.
I am glad that your camper got back in time, and props to the prom attendee! I also have to say that I loved hearing about the musical selections, as well the different states of origin of the audience members. What an event!
Puggmom (Florida): Glad your concert turned out cool! Our bows never worked out. Nowadays we just kinda stand around smiling onstage.
Aspiegirl (Ohio): So glad your violist made it to the recital. It seemed that it went really well except for a few Bobbsey bows, but I know my teacher and am not surprised you made them do it again. The kids sound super, and I am sure you taught them well and made Mama Mac proud. Thanks for the recap, and I will be waiting for my clack.
Nance (Georgia): We have worked with the middle and the high band programs for years, too. Hubby still does the high school band program now, even though we haven't had a child in school since 2001. I miss going to the concerts and watching their faces when they do it right.
1H20uandme (Missouri): So where is the Caro-ack? Is it on your other blog? Don't forget to give us a link if you put it up. Thanks for the recap!

In a comment on April 13, Smz80219 expounded about the blanket she was knitting for the organization Afghans for Afghans. I featured the story in subsequent blogs on April 16 and May 15. Here are her story and a few of the many remarks left by readers:
I thought one of my new knitting projects was very timely, to say the least. Afghans for Afghans is one of the organizations for which I knit. Their turn came up in my rotation, and on the 28th of March I started a wool baby blanket for them.
I will always have a soft spot for that blanket since it was being done while Clay was actually in the country. I can honestly say that since starting this blanket I have felt the need to pray -- deep inside -- a lot more than usual. That happens sometimes.
Much prayer has happened while sitting and knitting on this blanket. I hope those blessings are in each stitch and wrap around that baby who eventually uses this offering from a US knitter who has a heart for that country and its people.
Sally888 (Georgia): I especially enjoyed reading about "Knitting Towards a More Peaceful Afghanistan," and somehow think that smz's prayers and the caring thoughts of all the knitters will be as warming and comforting as the finished items.
Shadowgnome (Massachusetts): Afghans for Afghans sounds like a really great cause, and it's reassuring to hear that there are so many people that care.
Kimmstarraiken (California): I used this particular blog to impress upon my co-workers that it is not only Clay's voice and/or looks that he's as adored as he is. Of course, my co-workers were duly impressed by Clay's efforts in Afghanistan and his work with UNICEF and actually asked for links to the website.
Cindilu2: Things like the tragedy in Virginia today help to emphasize how blessed we are to have a shining light like Clay Aiken in our lives, and out in the world making his difference. His reports from the field, his beautiful face in those photographs, his wonderful voice speaking out to me over the airwaves -- those are my soft, warm blankets in this world.
PHOTO INTERLUDE: Clay Aiken's upcoming tour, dubbed by many fans the "Summer of Love" due to the many concert selections from his latest CD, A Thousand Different Ways, is highlighted in this clickable interlude. Visual artists include Amazing_CA, photo by Karen Eh, 1; Ambassador of Love, 2 and 4; A Beautiful Mind, 3; and Katt45, photo by Karen Eh, 5.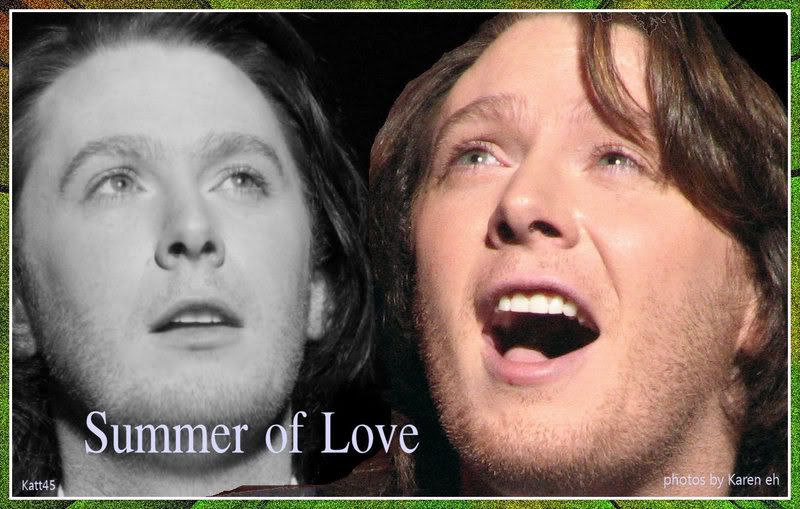 Clay + Jimmy = Climmel Time
When Clay was scheduled for the May 10 Jimmy Kimmel Live Show, reviews of past JKL appearances immediately headlined several blogs followed closely by celebrations of the latest surprise cooked up by the Kimmel staff and these two very good friends.

The fact that the singer would arrive onstage on horseback easily penetrated Clay Cyber radar because of the many fans attending the afternoon taping.
Hosaa (Maryland): Can't wait for tonight's "glimpse"! I don't think it could surpass last year's buzz-inducing appearance, but it should be a lot of fun.
Radclaylvr: It is so fun to see so much Clay and Jimmy -- wow what a team! I know Clay loves doing skits and making people laugh because I think he is at least 50% ham! The rest of course is that amazing singing voice and 2,456 different hair styles. Enjoy tonight!
Galadriel: I love how Jimmy always introduces Clay as "my best friend in the whole world"! Clay on a horse is just priceless.
Ashes2 (Alberta, Canada): I ran the JKL videos for a friend who usually can't sit still long enough to watch anything; but this one actually caught her attention. Her eyes were near popping out and lots of laughs. Her comment: "This was on TV last night? You mean this is what I'm missing by going to bed so early? She crashes by 9 p.m. Maybe one of these days I'll actually get her interested in watching a concert video!
Geni (Missouri): What a hoot! I fell asleep about nine, but some inner alarm clock must have awakened me. I arose with a clatter and ran to the remote just in time to see the green-vested Robin Hood arrive on his horse. Ya jes nevah know about that guy, do ya?

In the May 7 blog, TBAF Gala and UNICEF fundraising totals were celebrated, along with the Yahoo Music interview ("An Idol Who Really Gives Back") and several very moving Not.Just.Us stories.
Originally posted at Clayversity, CLAYPERFECT's report about her niece was met with heartfelt response.
I have never been happier than I am right now. My niece Jessie called me tonight from Virginia. She was wounded in Iraq the last week of April. She told me that when she was in Germany and about to go into surgery, she was thinking of me and requested they play "Measure of a Man" -- and they did! They HAD IT!
A nurse told her they play it a lot and that most surgeons operating request it because it brings them peace and relaxes them. The prognosis for Jessie is that she will not suffer any lasting effects from her injuries once she is healed and completes rehab. She is due to complete her service around June 1.
Grams4242 (Ontario, Canada): Great Not.Just.Us stories. The one about the girl who was injured in Iraq and underwent surgery was special as I thought about the CD's that had been donated to the troops and, possibly, this was one of them.
Lisa1068 (Connecticut): My last NJU story happened when I was driving to a Nickelback concert. I had someone standing out of her sunroof taking pictures of my car (Clay's head and a Claymate sign are on the back window and bumper). It was really funny when I realized we both drove into the same lot and parked for the concert. I really thought I was the only "Claymate" who would be at that show, LOL!
MNmeesh (Minnesota): That Clay Cube is pretty awesome -- kudos to Cindilu! I absolutely loved reading all the Not Just Us stories! Clayperfect's words of Jessie and MOAM really touched my heart.
Aspiegirl: I love reading about how much everyone has done to support inclusion. They really did a wonderful job at the Gala and I cannot believe the fans raised so much for UNICEF. What a great group of people. I am awed at how caring everyone is.
Wildaboutclay (California): I love that Rubik's cube! Bravo to Cindilu! Very cool!
Cindilu2: Smart, articulate, wise-beyond-his-years. And all that wrapped up in a gorgeous package to boot! I am, as always, so very proud to be his fan. On a personal note, thank you to all who commented on the Clay Cube. There's a puzzle I could happily spend the rest of my life trying to solve!

The May 4 blog centered around Clay's love for his hometown, Raleigh, NC, and contained links to an interview in in Go Air Tran, an airways magazine, and Grey Blackwell's animated Web cartoon NC Gives Back to AI, published online by the News&Observer.
Since spiraling into the American Idol spotlight four years ago, Clay has talked about his love for Raleigh in concerts and interviews throughout the country. There's no hiding his excitement when the tour bus is heading toward his hometown for a concert. This week Clay's love for Raleigh spilled over in a feature story in "Go Air Tran," an airways magazine.
Marlyne (New Jersey): I thought I was going to come back with some news no one knew about. We were flying home yesterday from Orlando on AirTran, I opened up their onboard magazine, and what do I see ... a feature story on Clay Aiken!
Grams4242: Clay should definitely be on North Carolina's payroll for being the number one ambassador who always promotes his home state at whatever chance he gets. The "NC Gives Back to American Idol" cartoon was hilarious, and the attention to detail was awesome. I have watched it so many times and each time I pick up some other detail I missed. A big kudos to the creators of that one!
Ashes2: The video cartoon is hilarious; I had to send the link on to a number of folks.
ClayNation (Massachusetts): What a stunning graphic to open up to in your blog. Great job, A Beautiful Mind! And yay for Faye (who won Raleigh's "Dancing Like the Stars" competition)!
Amazing_CA (Ontario, Canada): Thanks so much also for featuring the visuals from our PSP artists. Aspiegirl's montage, "Listen to the Rain," is another masterpiece. I just love her montages.

After reporting various aspects of TBAF's Champions of Change Gala, the April 4 blog ended with Family Cheers Soccer Novice, in which I relayed my grand-nephew Sam's newfound success on the soccer field:
By the first game, my grand-nephew had made a name for himself. The ball came to him, he was told to run, and that he did -- past his field of play and through two other soccer games to boot. About a week ago, he scored his first goal ... for the other team, not once but twice!
A very special aside in these comments were similar incidents shared by readers from the time their children were beginning to play a sport.
Galadriel: One of my favorite memories is my son playing goalie for the first time. He was lying on his stomach with his feet up in the air and his chin on his hands. Then he got up, picked a few clover flowers, and proceeded to climb the net for fun. He was 5. He later become a varsity fullback. Just ask the kids if they had fun and not whether they won or lost.
Nance: I remember those days of watching the young playing ball. My son played baseball. When he was 5 years old and just learning to play, he hit the ball. They told him to run to first base. He ran to third.
Most of the outfield players were sitting or drawing in the dirt. The second baseman usually had his legs crossed because he had to go to the bathroom, and the third baseman always had the glove on the wrong hand. Whenever a ball was hit, the whole team ran after it.
Elizabethgerencser (Ohio): The story about your grand-nephew's soccer exploits was awesome! I can just see it. Thanks for making me laugh. It's wonderful to see families who love and support each other so much.
Madaelynn (Texas): Your little Wrong-Way-Corrigan grand-nephew is so funny, in a cute way.
Below is a clickable of A Beautiful Mind's opening graphic: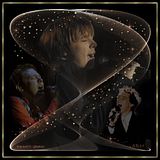 Thank you all for completing the circle with the many wonderful comments you leave on a wide variety of topics. I learn something from you with each new entry.
Have an awesome week, Clay Nation!
Caro
RELATED
TAGS:
Clay Aiken
,
A Thousand Different Ways
,
Summer Symphony Tour
,
Measure of a Man
,
UNICEF
,
Afghanistan
,
Yahoo Music
,
The Bubel/Aiken Foundation
,
Champions of Change Gala
,
Jimmy Kimmel Live
,
American Idol
,
Spring Recital
,
News&Observer
,
Grey Blackwell
,
Afghans for Afghans
,
soccer
,
Clay Nation
0 Comments | Read More→