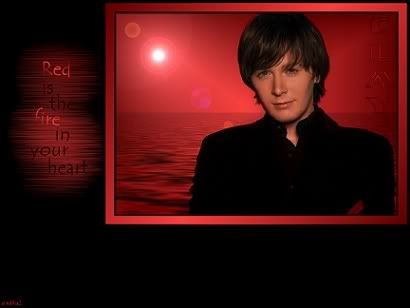 FALL CELEBRATION -- Cindilu2 created a dateless version of her beautiful October calendar that is also featured in this blog.
Wind Swoops by UPS Gig
'Clay Aiken Kids' Site Informative
With the beginning of American Idol Rewind, Clay Aiken fans have been presented a special opportunity to look back at Season 2, as well as the singer's journey as an entertainer, humanitarian, and teacher in a larger classroom than he ever imagined.


Clay Aiken Kids, a site dedicated to showing how we can make a difference, provides informative and delightful tours to accompany the current "Rewind" trips down memory lane.
Designed especially for the younger set, as well as the young at heart, the CAK site offers viewers a sojourn of well-constructed topics: Clay's Story, Make a Difference, Clay's Music, Clay's Journey, Clay's Photos, Clay's Classroom.
Each category corresponds with a beautiful blend created by Fountaindawg. The clickables below are used as CAK site links for Clay's Story, Clay's Journey, and Make a Difference.


Enjoy the tour at Clay Aiken Kids ... and pass it on!
As already admitted in the previous entry, procrastination landed me a weekend filled with last-minute income tax preparation. However, to welcome the new month with Cindilu2's beautiful, fiery October calendar, I dutifully tore myself away from "the project" to select additional Summer Tour graphics to form a visual intermission.
Sure was a lot more fun than the numbers!
PHOTO INTERLUDE -- Featured are designs by Amazing_CA, photos by Pink Cocoa, 1; ABeautifulMind, photos by ClayIzzaQT, 2; Cindilu2's October calendar; and Ambassador of Love, photos by LynninNJ; and Amazing_CA, photos by Invisibleson.

Trio Serenades UPS Celebration
Friday I joined my flute-playing sister and a cellist to provide background music for the UPS Centennial Luncheon in Greensboro. An online shopper, I have more than a passing acquaintance with UPS. However, the attendees at this catered luncheon were mega customers or business partners of this city's HUB.
Setting up in swirling wind gusts that reminded me of West Texas, our trio knew our biggest challenge was not playing the music but keeping it on our stands. Prepared with clear clips for just such weather, we launched into the first of Haydn's London Trios with the outdoor tent sides slapping our backsides.
Imagine our surprise when we were asked to step outside while employees determined if the tent was actually stable enough for the invited guests. The tent poles were deemed secure, but the side netting that had kicked us throughout the Haydn was removed.
We returned and simply restarted the second movement. The wind gusts weren't done, however; and a couple times, I finished a flute trill only to be slapped in the face by the fronds of a neighboring fern.
UPS Founded in Seattle
During a brief program of speeches, the reporter in me whipped out a notebook and jotted down some of the history our hosts were celebrating. We learned that the American Messenger Company, forerunner of UPS, was founded in 1907 by 19-year-old Jim Casey in Seattle, WA.
Casey started the company with $100 borrowed from a friend, and his motto was "best service and lowest rates." Deliveries were made on foot, bicycle, or motorcycle. In 1913, the Model T Ford became the delivery vehicle. Six years later the company expanded beyond Seattle and changed its name to United Parcel Service.
One of the Greensboro exhibits was an early UPS truck that reminded the sister flautists of our mother's old Chevy from the 1930's, complete with running board. That vehicle ended its colorful life as our childhood beach jalopy.
Not only were we paid for our musical services Friday, but we each left with a catered plate for dinner -- in fact, enough for two or three meals. That and our new wind-styled hairdos, of course!
Hooked on Clay's AI Rewind Narration
I added the finishing touches to this blog while listening to Clay narrate the first segment of American Idol Rewind. Now I am more anxious than ever to see the "rewind" of his Atlanta audition on Oct. 13.
Of course, it's not as if that moment isn't already preserved numerous time in downloads and montages on my external hard drive. I know I'm in good company on that one!
Below is a clickable of Cindilu2's beautiful opening graphic: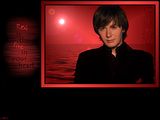 Have a wonderful week, Clay Nation!
Caro
RELATED TAGS: Clay Aiken, Season 2 American Idol Rewind, Clay Aiken Kids, Official Fan Club, Clay Nation
0 Comments | Read More→