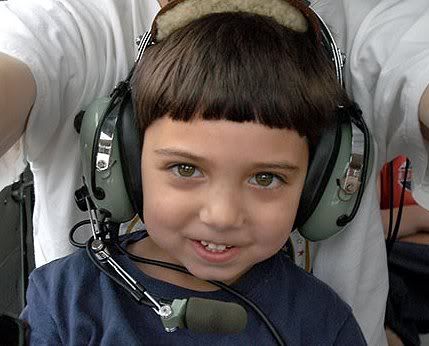 TAKING FLIGHT -- Samuel Habib sits on his father's lap behind
the controls of his grandfather's sea plane, as the two
prepare for a flight. Photo by Dan Habib.
Spotlight on 'Including Samuel'
TBAF Champions of Change

Before his son Samuel was diagnosed with cerebral palsy, photojournalist and 2008 Champion of Change honoree Dan Habib rarely thought about the inclusion of people with disabilities. Now he thinks about inclusion every day.

Shot and produced over four years, the 58-minute award-winning documentary film, Including Samuel honestly chronicles the Habib family's efforts to include Samuel in every facet of their lives. The film also features four other families with varied inclusion experiences, plus interviews with dozens of teachers, young people, parents, and disability rights experts.

Dan Habib and wife Betsy McNamara will be among four honorees presented The Bubel/Aiken Foundation Champions of Change Award at the organization's 2008 October gala in Raleigh.

Co-founded by singer Clay Aiken and Diane Bubel in 2003, TBAF serves to bridge the gap that exists between young people with special needs and the world around them by supporting communities with inclusive programs and creating awareness about the possibilities that inclusion can bring.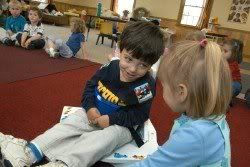 A 12-minute trailer of
Including Samuel
can be viewed at this link. In addition to a special screening at TBAF's Champions of Change Gala on Oct. 18, an ongoing schedule of film screenings is planned throughout the country. Screening locations are being updated
here
.

A slideshow of photographs and downloadable video clips are available at this
media
link.
My modest goal was that it would become a tool within New Hampshire to talk about inclusion in a more informed and innovative way. My secret goal was that it would serve that purpose nationally and internationally and would cross over to the mainstream.

"Including Samuel" quickly gained notoriety and national media attention after additional premieres in Boston and Washington, D.C., making Habib's secret dream a reality in less than year.
The above graphs are from Jim Fennell's excellent article for the Concord Union Leader. The complete story is available at the link.
Including Samuel has been featured on NPR's All Things Considered, as well as Good Morning America NOW and in the Washington Post and the Boston Globe. Including Samuel is a "must see film," according to Exceptional Parent magazine.
The film won the Positive Images in Media award from TASH, an international group committed to the full inclusion of people with disabilities. The film was also screened at the Sprout Film Festival at the Metropolitan Museum of Art (NYC) and named "Best Documentary" at the Somewhat North of Boston Film Festival.

PHOTO INTERLUDE: The graphics in this collection feature TBAF and UNICEF collages, as well as Clay Aiken's philosophy for making a difference. Artists include Clayquebec1, photos by Invisible926, 1 and 5; Amazing_CA with photos by dc4clay, 2; ClayIzzaQT, 3 (from 2007 Gala); and Tasapio, 4.
TBAF Gala To Celebrate Year 5

TBAF Champions of Change honorees will be presented awards at the gala benefit dinner Saturday, Oct. 18, at the Marriott City Center Hotel in Raleigh. The event also will celebrate the foundation's fifth anniversary.

In addition to Habib and McNamara, TBAF Champions of Change honorees include Rich Donovan and CVS Caremark (corporate).


The Foundation selects Champions of Change for their substantive efforts to extend the boundaries of the human experience to children of all abilities, in keeping with the Foundation's mission of supporting communities with inclusive programs and creating awareness about the possibilities that inclusion can bring.

Rich Donovan is being recognized as a Champion of Change for applying his world-class business acumen to creating means of empowerment for people with disabilities. He was a key to Merrill Lynch's diversity strategy.

As CEO of Integrated Process Solutions, Rich provides large corporations and governments with ready-for-action profit opportunities as a "return on disability."

Rich, who has cerebral palsy, is Board Chairman of Lime Connect, showing real-life solutions - and real financial advantages - to hiring, working with, and providing products and services for people with disabilities.

In serving children, he is an advocate of education as essential to the future economic and social success of individuals with disabilities.

CVS Caremark Charitable Trust is being honored as a Corporate Champion of Change for their outstanding efforts to improve the lives of children with disabilities.

The five-year, $25 million CVS Caremark "All Kids Can" program supports nonprofit organizations helping children with disabilities in school, in recreation and in developing skills for successful lives, all within an inclusive environment.
The gala benefit celebration will feature a special performance by Clay Aiken, as well as dinner, plus silent and live auctions in support of the Foundation's programs providing children with disabilities the opportunity to play, learn and grow side-by-side with their typical peers.

For more information, stay tuned to TBAF website.

Happy Labor Day Weekend, Clay Nation!

Caro
TECHNORATI TAGS:
Clay Aiken
,
On My Way Here
,
The Bubel/Aiken Foundation
,
Champions of Change Gala
,
Diane Bubel
,
Dan Habib
,
Betsy McNamara
,
Including Samuel
,
Rich Donovan
,
CVS Caremark
,
Official Fan Club
,
Clay Nation
0 Comments | Read More→