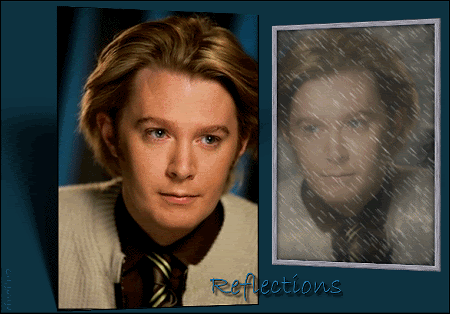 REFLECTIONS -- Clay Aiken fans this week commemorate the night they first heard his voice in the Jan. 28, 2003 telecast of American Idol Season 2 Atlanta Auditions. Graphic animation by Cindilu2.
From Atlanta to Broadway
Aiken Fans Mark Five Years
Every year at this time, Clay Aiken fans stop and commemorate the anniversary of The Vox. On Jan. 28, 2003, American Idol telecast Season 2's Atlanta Auditions in which the North Carolina singer's glorious pipes were first heard in homes throughout North America.

For countless fans, now known the world over as Claymates, the beautiful strains of "Always and Forever" were just the beginning. Many have been riding the Clay Train ever since.

Recollections honoring the occasion appear throughout message boards and in CA-related blogs, none more memorable than the essay by Berkeley at The ConCLAYve: Clay Aiken: Day One, Year Six: The Singer, Diane, and Mike:
On January 28, 2003, millions of people heard you sing for the first time. I was one of the people who met you at "Take."
Five years later, you are still here and showing a more wide-ranging talent than ever before, performing before enthusiastic and appreciative audiences while appearing in your debut on Broadway.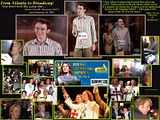 From Atlanta to Broadway
Wallpaper by Fountaindawg
Collage Celebrates Journey
Fountaindawg's collage "From Atlanta to Broadway" is another special commemoration of the January events of 2003 and 2008, replete with photos and quotations signifying the initial introduction, as well as Clay's successful leap onto the Broadway stage as Sir Robin in "Spamalot" this month.
During the Jan. 28, 2003, telecast, AI judge Simon Cowell began the now famous litany that he continued off and on throughout the competition: "You don't look like a pop star."

In this month's media promos, "Spamalot" director Mike Nichols has frequently spoken of Clay's talent this way:

"Clay Aiken is amazing beyond that glorious voice. Turns out he is an excellent comic actor and a master of character. People will be surprised by his wide ranging talent, since the first impression is of great country charm and a singer to remember. This guy is not only a star, he is a lot more.

We are lucky to get him for Spamalot. ... The guy is not only a star; he is a lot more."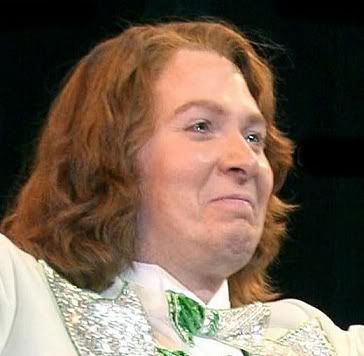 Photo links to 'Find Your Grail' montage by Suereu
Also celebrating the five years from Atlanta to Broadway is Suereu's excellent montage: Clay, Find Your Grail, which can be viewed on YouTube.
TBAF Raises Funds in Parade Challenge
Although The Bubel/Aiken Foundation did not obtain enough donors to be one of four US charities to receive $50,000 from Parade Magazine's Giving Challenge, the total money raised will help fund the Let's All Play Camps project.
The campaign ended at 3 p.m. Thursday with TBAF in sixth place and 1,917 contributors. At 8:30 p.m. funds were stil being registered, and supporters can make a donation at this link.

The final tallies can be viewed at Six Degrees.
PHOTO INTERLUDE: Featured in this clickable interlude are graphics by Amazing_CA, 1, 2; ABeautifulMind, 3; Ambassador of Love, 4; and Clayquebec1, 5.


Reviewer: 'Color Me Surprised'
Sunday Idol Thoughts was positively amazed with Clay's performance in "Spamalot," and the review reflects just that. Here are a couple of graphs from Color Me Surprised: Clay Aiken Is Fantastic in Spamalot:
If I'm being totally honest, I didn't go into today's matinee performance of Spamalot with the highest of expectations. Since it had been announced that Clay Aiken was joining the Broadway cast in the role of Sir Robin I've been dubious as to how goodof a fit the American Idol runner-up and the Monty Python show would be.
Well color me very pleasantly surprised -- Clay was great!
His voice was, of course, fantastic, but it was his comic timingand his dancing that shocked me the most. From the moment he appeared on stage, he was totally, and delightfully, in character, and he maintained that commitment throughout the entire show. He delivered his lines like an old pro, and completely embraced his character's often quirky movement, footwork, and comic bits, even when they required him to make fun of himself.

Best of all -- he appeared to be having the time of his life. The often irreverent humor of the show seemed to fit him like a glove, and he imbued each of his scenes with what appeared to be a genuine sense of joy.
Wildcard Show Next on AI2 Rewind
Ironically, this weekend's segment of American Idol 2 Rewind will feature Clay's triumphant return to the competition on the 2003 Wildcard Show. After coming in third in the Group 2 round, the singer was called back to Hollywood and voted through in the Wildcard Show.
Check your local listings for the air date. "Don't Let the Sun Go Down on Me" is a performance not to be missed!
AI2 Rewind Schedule

Feb. 2: Wildcard Show
Feb. 9: Top 12 to 11
Feb. 16: Top 11 to 10
Feb. 23: Top 10 to 9
Mar. 1: Top 9 to 8
Mar. 8: Top 8 to 7
Mar. 15: Top 7 to 6
Mar. 22: Top 6 to 5
Mar. 29: Top 5 to 4
April 5: Top 4 to 3
April 12: Top 3 to 2
April 19: Final 2
April 26: Finale
Kai Discovers New Toy
Although grandson Kai still enjoys the buttons on the TV control, he has discovered a new favorite toy -- his grandfather's glasses, which he doesn't think twice about removing and examining.
The above photo was edited by Kai's fairy godmother Sally, who turned around and made him the center of a bowl of Valentine hearts in the version below. Both are clickable.

Sally's tutorial for these pictures is posted in the Photo Editing Thread in Clayversity's Paint Shop Pro Forum.
Below is a clickable of

Cindilu2

's opening graphic, "Reflections":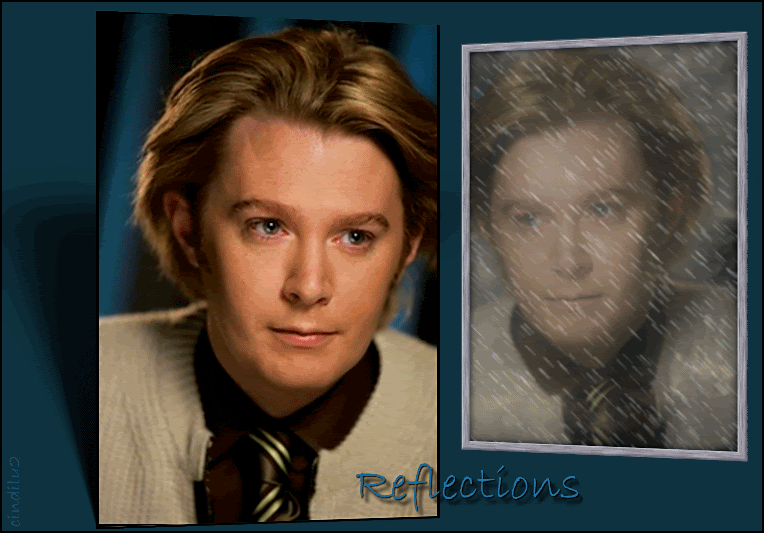 Have an awesome week, Clay Nation!
Caro
RELATED TAGS: Clay Aiken, Spamalot, Broadway, Mike Nichols, American Idol, Simon Cowell, American Idol 2 Rewind, The Bubel/Aiken Foundation, Parade Magazine Giving Challenge, Let's All Play Camps, Idol Thoughts, Claymates, Official Fan Club, Clay Nation
0 Comments | Read More→