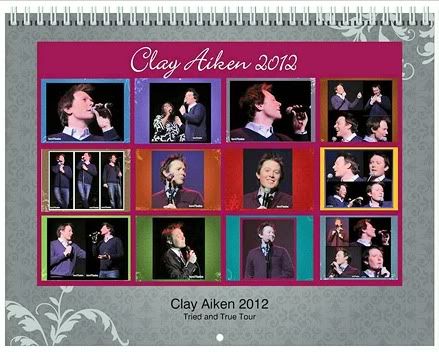 2012 Clay Aiken Calendars - Order by Nov. 22!
Tried & True wall calendar cover is clickable.
Wall, Desk Versions in Auction
Aiken Calendars Headed to Gala
The 2012 Clay Aiken Calendars are going back to the Gala as auction items. But before that, fans of the singer can order Tried & True wall or desk versions through the project's coordinator.

Produced annually by
Rosaratana
with photos by

toni7babe

,
the 2012 calendar features images predominately from the 2011 Tried & True Tour and is again being published in desk and wall versions.
Hippoga

,
also part of the 2012 team,
helped select the photos and coordinated the inclusion of 20 calendars in the silent auction for the Dec. 9-10 Champions Gala, annual event of the National Inclusion Project in Raleigh, NC.


Sample of monthly desk calendars. Double click to enlarge.

The calendars, printed on premium glossy card stock, can be ordered through Rosaratana between now and Nov. 22. Costs include $12 for the desk size (8.27" x 3.74") and $25 for the wall version (11" x 8.5").

As in the past six years, all proceeds after costs will be donated to the National Inclusion Project. Thought not an official NIP fundraiser, this project is sponsored annually by the Together for Inclusion Alpha Chapter of Aiken 4Clay. The 2011 calendars generated a foundation donation of $965.62 through sales plus an addition $650 more in the Gala auction.
To place calendar orders, Paypal or email Rosa at rosash@comcast.net by Nov. 22. Checks are accepted, and she will email you the address. Process time between orders received to calendars printed and shipped is approximately 3-4 weeks.

Sample of wall calendar months. Double click to enlarge.
The 2012 calendars are being shipped as orders arrive. Below is fan mail from a happy customer:
The calendars came yesterday, and you did a wonderful job as usual. After seeing it, I'm thinking of buying another one for my mom. She's still a Clay fan at 91, and I think she'd enjoy looking at those photos every month. I will send another check off to you this week.
GoodSearch/GoodShop Support Charities
With your assistance, the National Inclusion Project could win an additional $1,000 donation in September's GoodSearch Registration Contest!
The charity with the most new registrations by September 30 will claim this prize. You can help the Inclusion Project win by spreading the word to friends, family and colleagues via Facebook, Twitter, and an email at this link.
Remember that every time you go through the GoodSearch and GoodShop sites for Internet searches and purchases, you add revenue for the Inclusion Project. To date, that total is

$16,449.48

-- a penny or two at a time as supporters search and shop through these sites.



Pennies Become Dollars with GoodSearch



GoodSearch is a Yahoo-powered search engine that donates 50% of its revenue, about a penny per search, to listed American charities and schools designated by its users. The money donated comes from the site's advertisers.

More than 96,000 non-profits are participating in the program. GoodSearch was founded in November 2005 by siblings Ken and JJ Ramberg.

In September 2007, the GoodShop online shopping mall was launched. A percentage of each purchase is donated to the user's designated charity. GoodShop is affiliated with more than 1,300 online retailers including Amazon, Target, Staples, eBay, Best Buy, and Apple.

A toolbar is available for Internet Explorer and Firefox browsers. Read more about the GoodSearch/GoodShop sites here.

Have a wonderful weekend, Clay Nation!

Caro