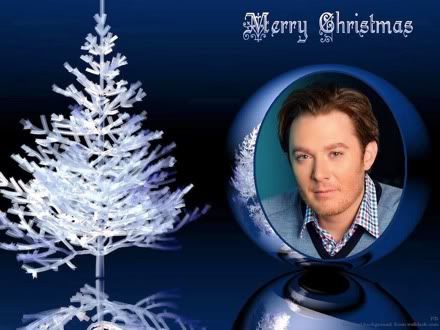 HAPPY HOLIDAYS - Clay Aiken will join a huge cast performing in a holiday benefit at New York City's Beacon Theatre Sunday night. Double clickable graphic by Fountaindawg with photo by Curtis Brown.
NIP Votes for Pepsi Partners
Fans Celebrate Holiday Concert
Clay Aiken returns to Broadway Sunday evening for a special performance in the

Cyndi Lauper & Friends: Home for the Holidays Concert

at the Beacon Theatre.

Presented by Cyndi Lauper's True Colors Fund, the 8 p.m. benefit will help raise awareness for lesbian, gay, bisexual, and transgendered youth homelessness. Tickets are priced $35 - $500. For more information, visit the Beacon Theatre website.
"When I first learned that up to 40 percent of all homeless youth in this country identify as gay, lesbian, bisexual or transgender, I was shocked and saddened," said Lauper, co-founder of the True Colors Fund.

"For far too long homeless youth have not received the attention, resources and funding necessary to bring an end to this epidemic. My hope is that through this inspiring evening of music and comedy we can raise awareness and much needed funds to help these young people."
In addition to Clay, the Beacon Theatre benefit concert will feature the talents of Lauper, Norah Jones, Lou Reed, Rosie O'Donnell, Carson Kressley, Amy Lee, Chely, Wright, Skylar Grey, Vanessa Carlton, Angelique Kidjo, Harvey Fierstein, Deluka, Debbie Harry, Alan Cumming, and Cassandra Wilson.

Cyndi Lauper's True Colors Fund is sponsoring the benefit concert.
NIP Celebrates $50k Grant Win
After securing a $50k Pepsi Refresh grant last month, National Inclusion Project supporters are voting for December participants who supported the foundation in November's successful drive.

Links and text numbers for the supporting charities, along with several causes from North Carolina, are located on the ABC panels of the above widget and the vertical version situated in the Carolina sidebar. Both were created by
Scarlett
.

The VOTE panel contains two sample comments to post on the charity's Pepsi page following your daily ballot.

Below are double clickables of
Fountaindawg
's opening graphic. The second is a widescreen version.
Have a wonderful week, Clay Nation!


Caro